Reading corner in our playroom
I have always wanted my boys to enjoy reading. I love children's books, vintage ones, new one, I LOVE books!! Today my youngest two boys and I worked on making a little reading corner in their playroom. I wanted to make it a fun, whimsical place to sit read books and use their sweet imaginations!
I found those two darling children's chairs a few weeks back for just $6 each!!
These chairs are really quite small, too small for my boys to sit on so I knew that I would hang them on a wall as shelves somewhere. The playroom was a perfect place for them to hang to hold books and toys.
To hang them I simply screwed two eye hooks in the backs of each chair and then attached them to the wall using monkey hooks.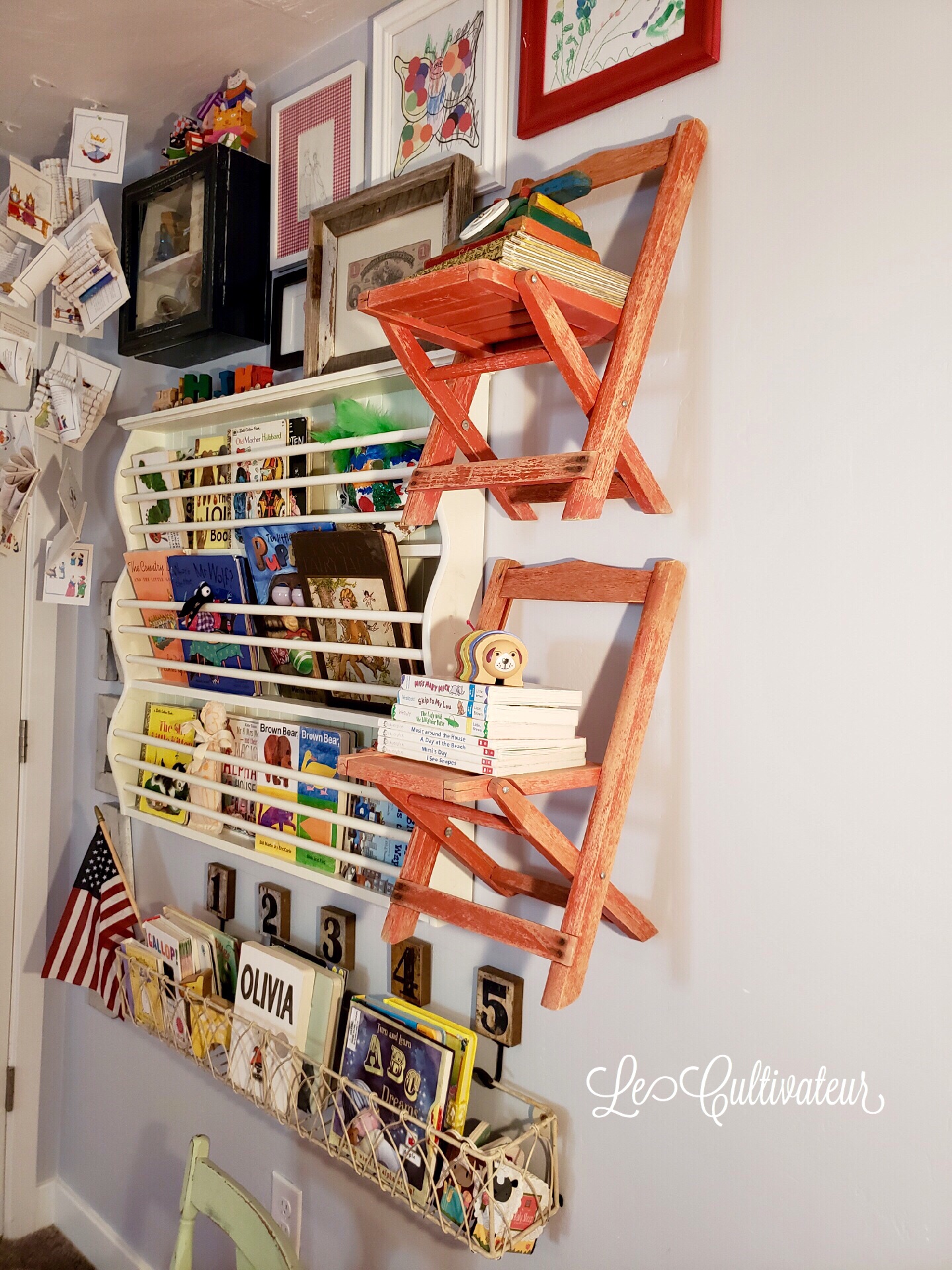 I really like to use unexpected pieces when decorating, like these chairs for shelves! It makes the decor not only uniquely yours but also interested and fun!
Another favorite part of our reading corner is the hanging books!
I have wanted to have hanging books for a while now, but didn't know where to start. Today while looking through and organizing some books, I came across a stack of small books that I knew would be perfect for hanging. For a more whimsical and fun touch, I started by tucking the pages under each other to make a fan like shape.
Then I made a small hole, using a drill with a small drill bit, through either the cover or the back of each book. I then strung them with fishing line to small command hooks that I had placed on the ceiling.
One of the books was falling apart, so I added the single pages to the fish lines as well.
We also framed some of their art, hung it up, and placed a few sentimental items in a shadow box that we painted navy blue. My little boys were so happy with how it turned out! They were excited to pull the books down from the shelves and start reading…success!!!
Thank you for visiting LeCultivateur!!!
~Emily & Jennie
Check out where we have linked this week…. Blog link list