A weekend kitchen project…framing out my refrigerator
I was so excited to get this entire project done in just one weekend, while my husband was out of town. And, for just $150! I completely changed part of my kitchen that has bothered me ever since we bought this house. The refrigerator always seemed to be floating on the wall, no real structure or solid lines. I really wanted a more custom, built-in look.
Here are a couple "before" pictures, so you can get an idea of why I am so pleased with myself right now!
I started by taking everything out of the cabinets, taking them off the wall, removing that little desk/counter area, and removing the baseboards.
Now that I had a blank slate, it was ready to get all dressed up and beautified!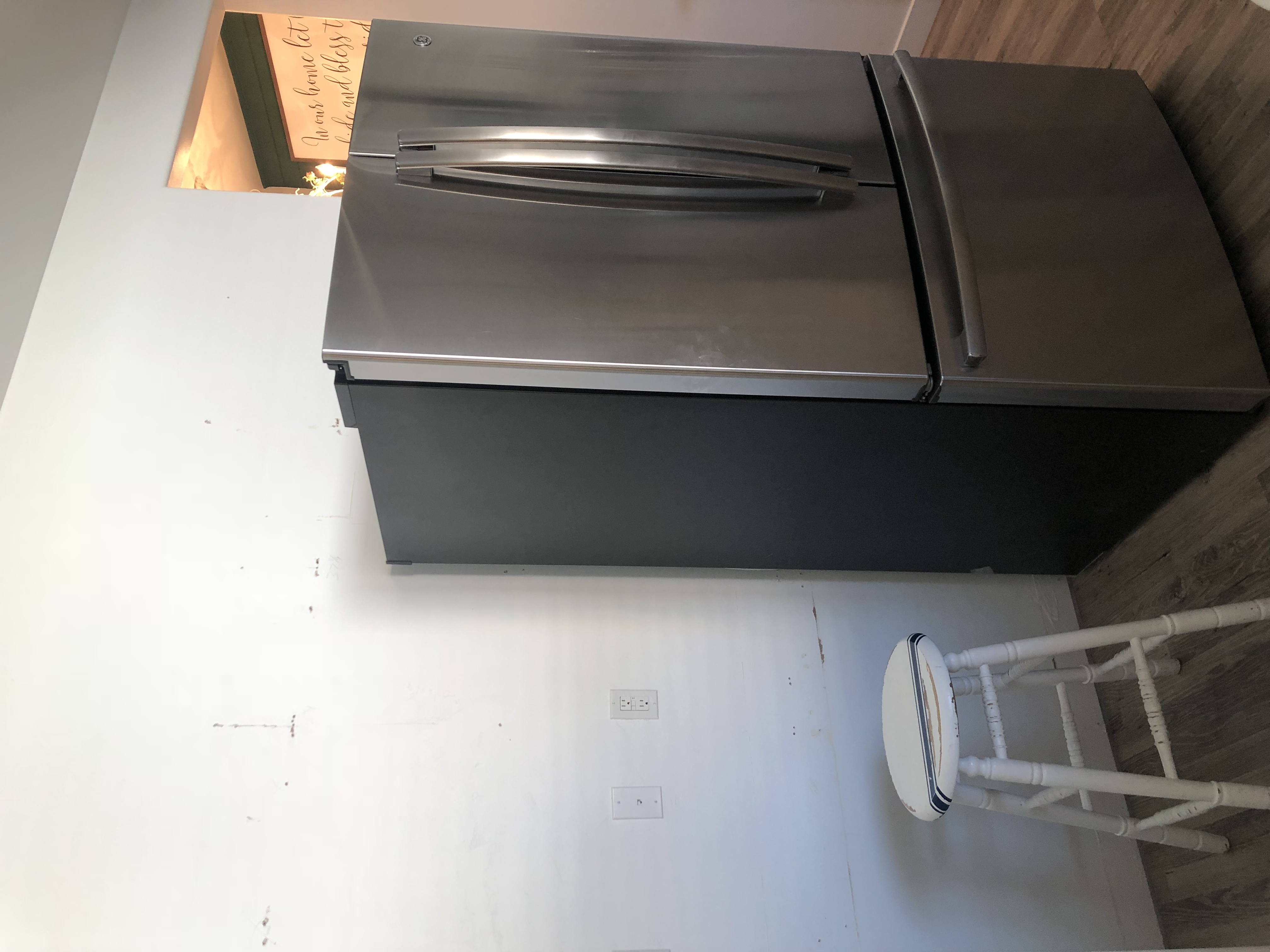 Using wood that I purchased, and got cut at Home Depot, I used This tutorial to frame out my refrigerator. The only difference, is that I first attached the cabinet to the ceiling.
**If I have learned anything in all my DIY projects, it's that you shouldn't ever buy the cheapest screws or nails. I like to get a lot for my money, don't get me wrong, but I NEVER skimp when it comes to buying screws and nails. Just don't do it! It's worth the few extra dollars, trust me on this one!
I started by cutting a few 1X2 to length, and then screwing them into the ceiling joists. Ceiling joists are usually either 16 or 24 inches apart, mine were 16 inches apart. I was able to screw each board into three joists.
If you're going to attach your cabinet to the ceiling, you'll need to figure out what way your joists run, and how far apart they are spaced. My house has a partially unfinished basement, so I was able to look at the joist in the ceiling of my basement, to see which way the joists run, and could also measure their spacing.
I then continued to screw 1×2 together, forming a cleat to hang my cabinet from.
The next part, actually hanging the cabinet, was quite challenging to do by myself, but I always figure out how to get things done. Where there's a will, there's always a way! I lined the cabinet up with the cleat, and then propped the cabinet up with stack of books. When the cabinet was in place, I quickly (using about 10 screws, 3 inch construction screws) screwed the cabinet to the cleat. Once the cabinet was up, I framed it out, in a very similar way to the tutorial on Young House Love, click here, to check it out.
Now the fun part, adding the details. I decided to add beadboard to the sides. The beadboard comes in 8ft sheets, but my ceilings are 9ft, so I cut the board 2/3 of the way up, and separated the board with a 6 inch gap in the middle, that I covered with mdf.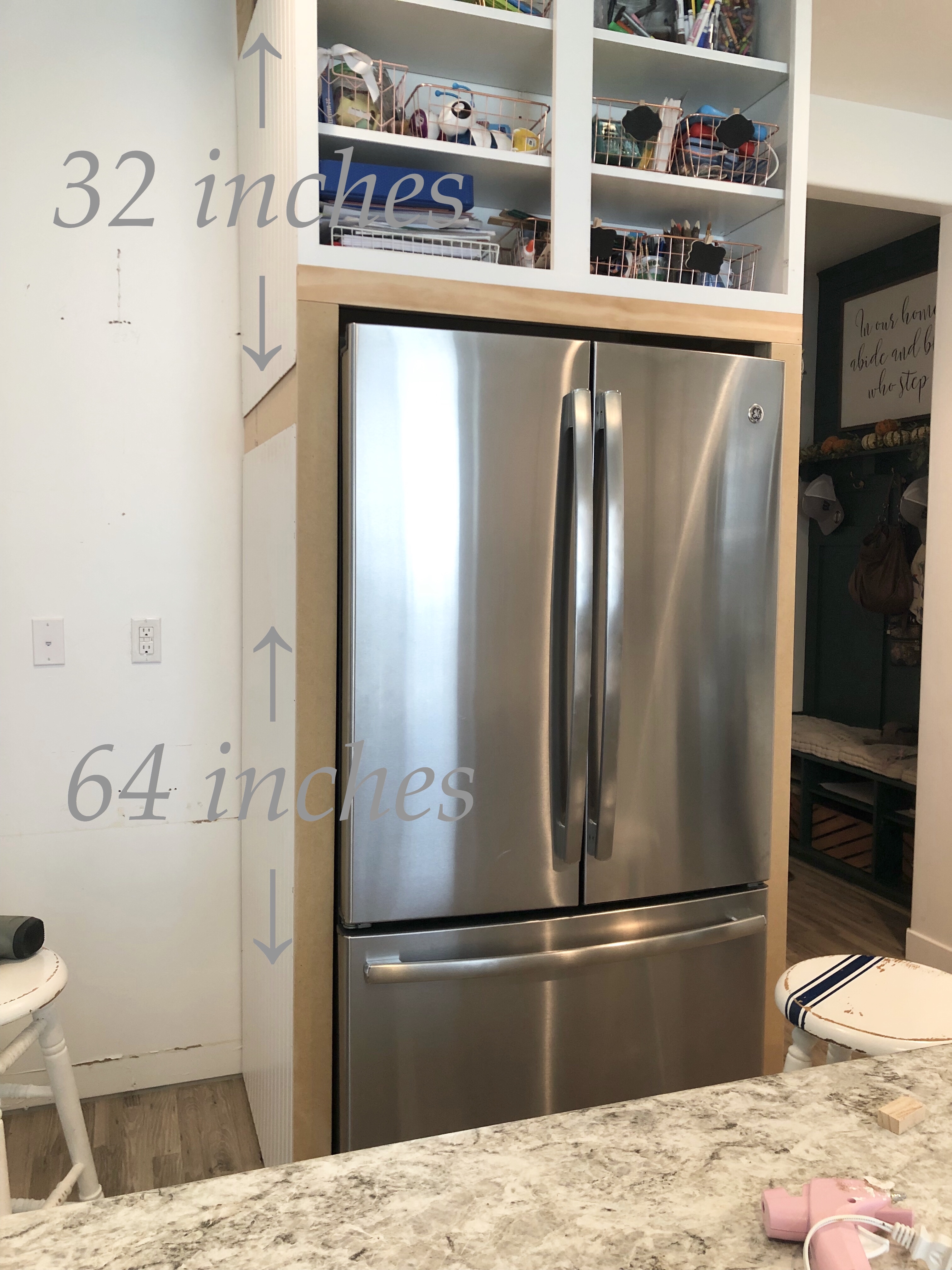 For the trim, I used strips of 3/4 inch thick mdf. I got all my strips of mdf cut at Home Depot. Then all I had to do is measure, and cut the strips to length at home.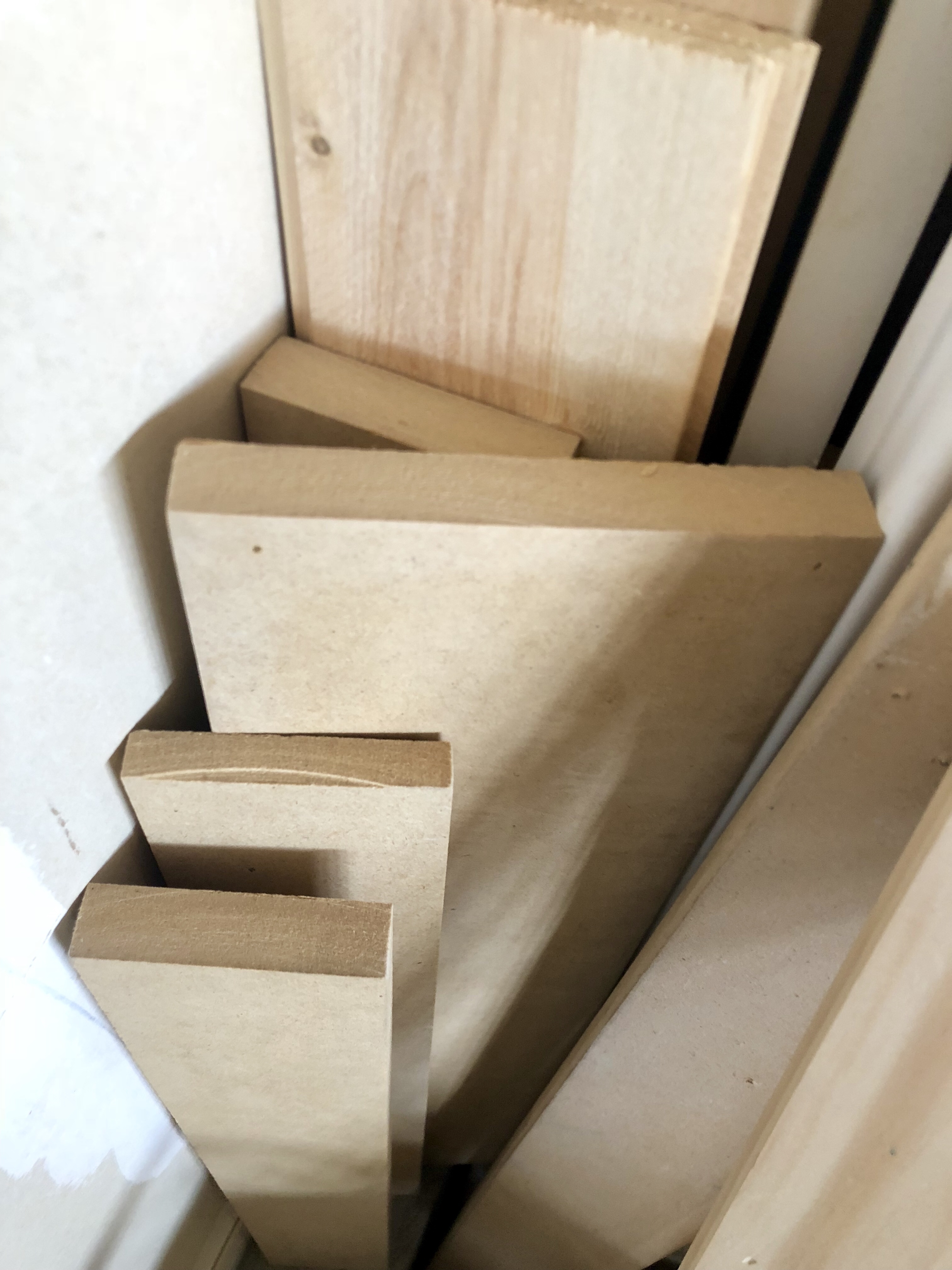 I got the mdf strips cut into 3 inch strips for the sides, 8 inch for the top, middle, and bottom, and the left over was 10 inches, which I used for the shelves.
The shelves are 11 inches deep total, 10 inches of mdf, plus an added 1 inch piece on the front. I used a "builder grade" 1×2 to finish the shelf. I cut it to length, and then nailed it to the front of the shelf. "Builder grade" wood is little more expensive, but definitely worth the money. It's a smoother piece of wood, without huge knots and imperfections. This is what I used…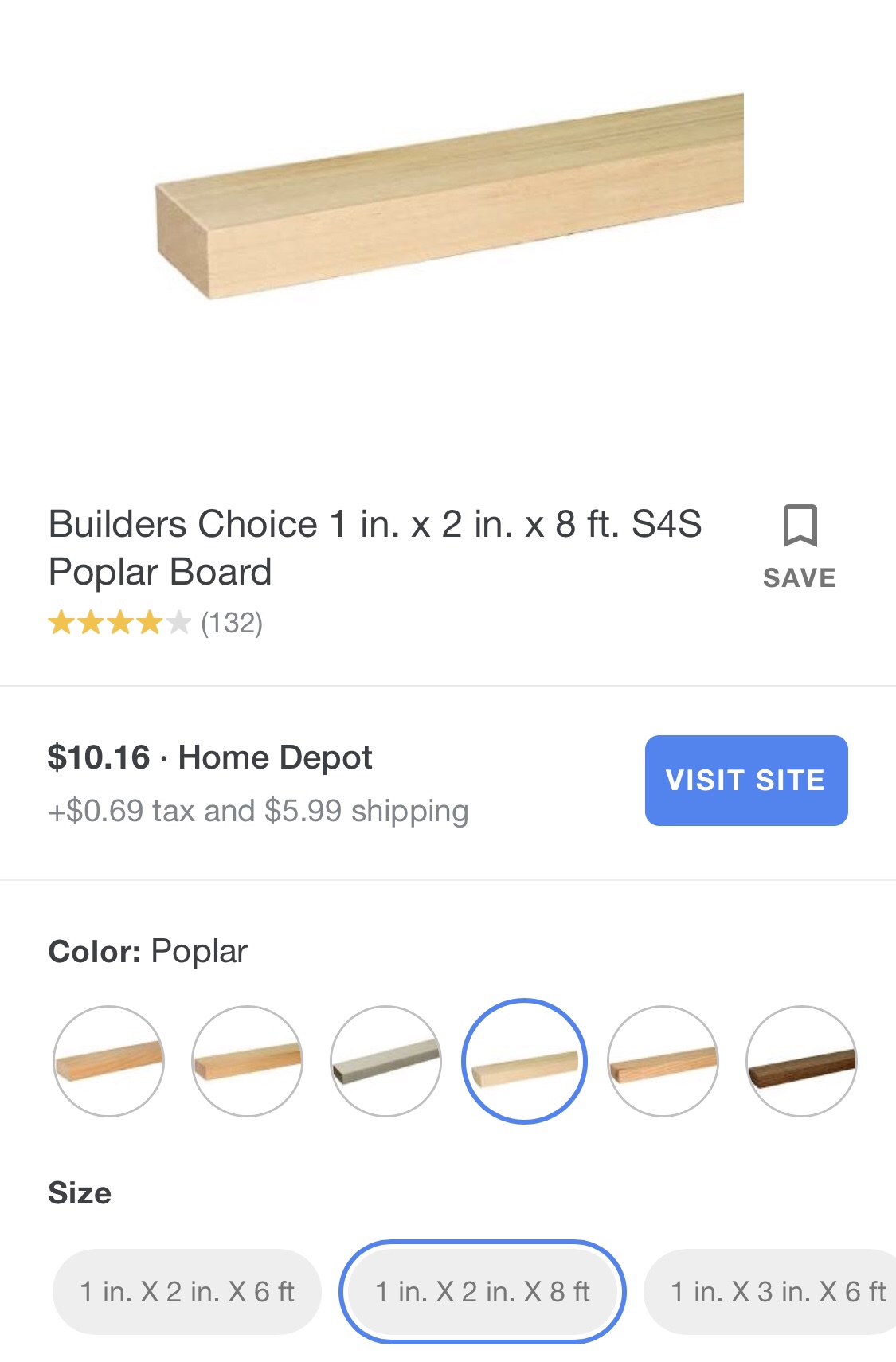 The brackets also came from Home Depot.
I used my favorite rub'n buff, to make them an antique gold color. You can check out my blog post that I wrote about rub'n buff, by clicking here.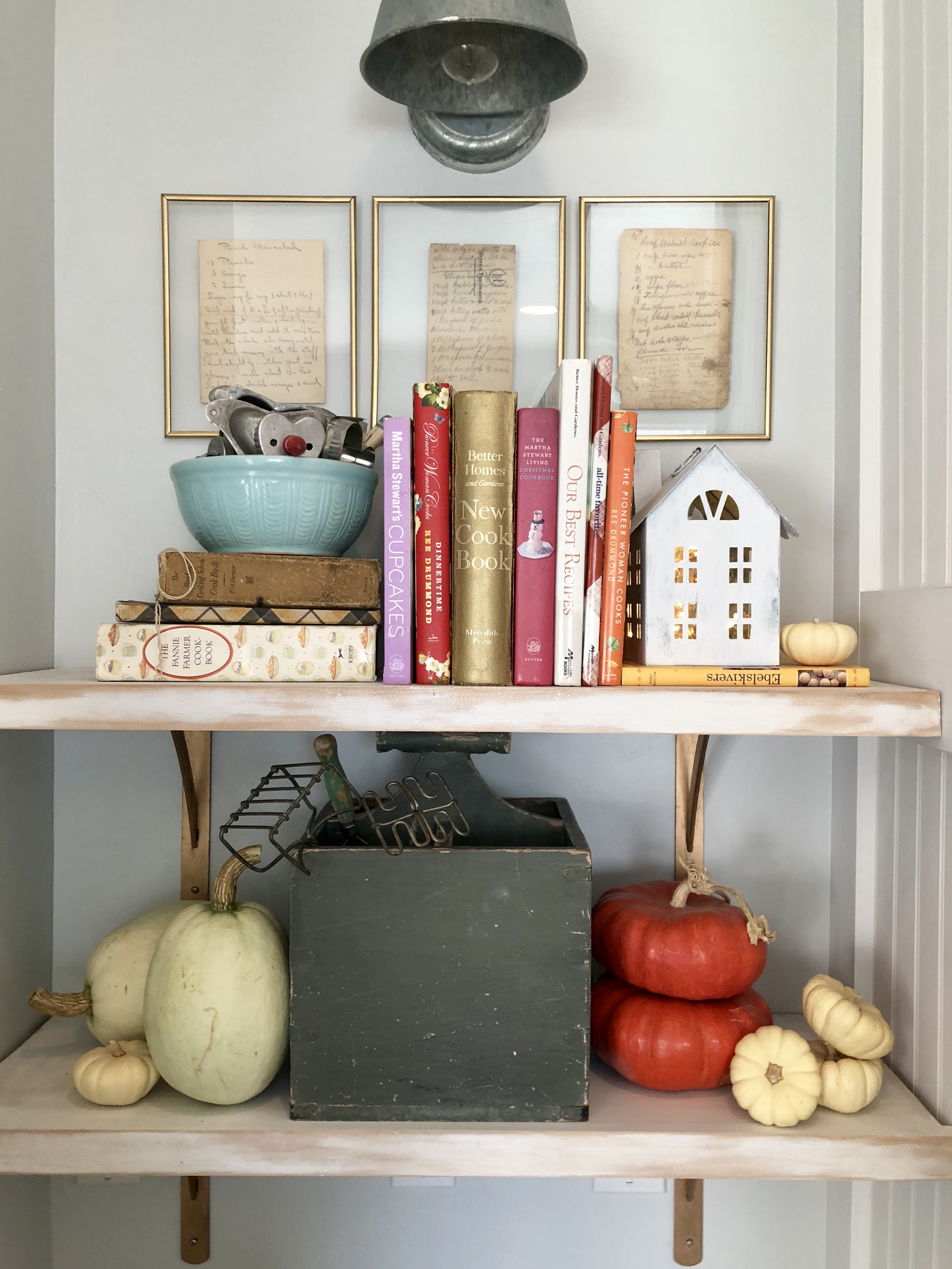 The shelves and the cabinet got a fresh coat of white paint. I distressed the shelves quite a bit, and then sealed everything with a coat of polycrylic, in a satin sheen.
Yay!!! This little part of my kitchen has a whole new look!
One of my favorite parts, the sweet little vintage cabinet. It fit the space perfectly. I was so excited! It wasn't even part of the plan, it just ended up working out perfectly!
I would love to answer any, and all questions that you have, just leave a comment or email me.
Happy Monday, y'all! Hope everyone has amazing amazing week!
Thank you for visiting LeCultivateur!!!
~Emily
Check out where I have linked this project…. Blog link list