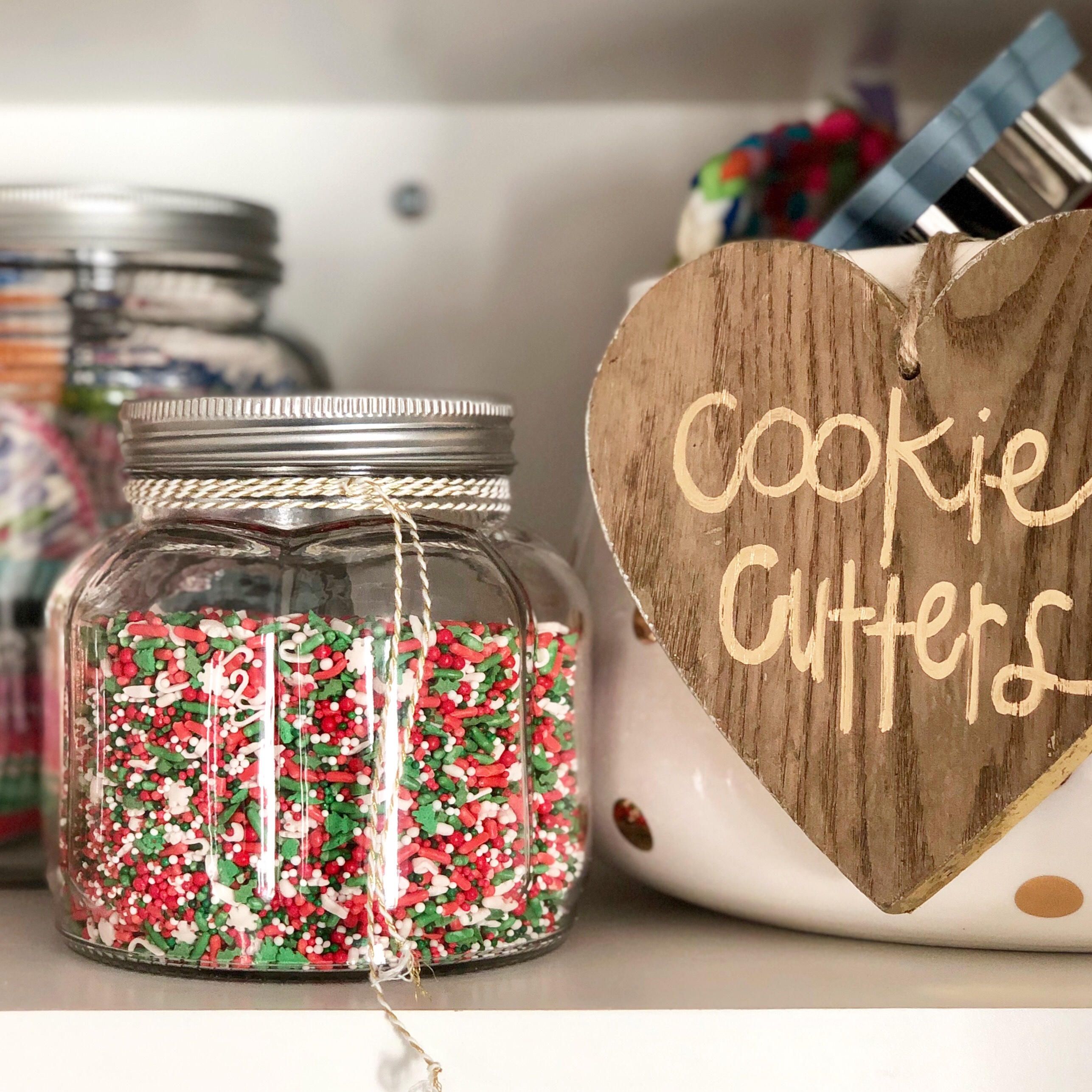 Top Shelf Clearance Challenge ~ It's All About Organization
Happy Monday, friends! I am so excited for another Top Shelf Clearance Challenge!!!
This month, it's all about organization. What do you think you could get organized with just $15 to use in the clearance section? I am so surprised at what I was able to do! It did help to hit all the amazing after Christmas sales! There's always such amazing things to find, and for literally just pennies on the dollar!
When we decided on the theme for this month's challenge, I knew that I wanted to organize my kitchen cabinets. It's always such a happy moment to open a cabinet door to a clean, organized space, not just chaos. So, when I hit the after Christmas sales, and scoured the clearance racks, I tried to find anything that would work to make my cabinets not only more organized and functional, but also somewhat cute.
What I found…
I was able to get these sturdy wire baskets at Walmart for just $.40, for a set of two! I was so excited!! I grabbed all that I could find, seven sets! They weren't in the Christmas clearance, just on the regular clearance aisle. Probably left over from back to school. I never saw them in the store when they were full price, so it was a surprise to see them on the clearance aisle!
The white ceramic heart ornaments are from Hobby Lobby, 90% off. Just $.30 for a pack of two hearts! They make the perfect basket labels. I just spray painted them navy blue, and used a gold marker to write on them.
These wooden hearts were from the dollar spot at Target, 90% off, just $.10 each!! With a little gold marker, they make the perfect labels too!
I found these labels at Hobby Lobby, perfect to label my spices and things. They were 50% off. They were my biggest ticket item, but so worth it to have all of my spices labeled and organized.
I found four of these jars at Target, 90% off, just $.30 each! And, one of my favorite finds is that darling gold polka dot vase, just $1.70! I found two! I seriously went to at least five different Target's the day that everything hit 90% off! Seriously though, what's up with Walmart? Their Christmas is still only 75% off, and it's three weeks after Christmas!! It's always fun to see what you can find for 90% off, usually it's just the leftover crap, but this year I found so much stuff!!
Anyway, on to my project. Here's cabinet #1, before…
Not horrible, but not great. After some baskets, jars, that darling polka dot vase, and some wooden heart labels…
I had an old spice rack, full of spices that I never use, so I dumped all the spices out, washed the little jars, scrubbed the labels off, filled them with spices that I use, and labeled them with the labels that I found at Hobby Lobby. My spice cabinet is a happy cabinet!!
Cabinet #2, before…
This is where I keep all school supplies, art supplies, etc. I have to keep it all up high, or my three year old would definitely get his little hands on everything. I would end up with a very colorful house. Here's what it looks like now…
I am so excited about this cabinet being organized. Now I know where everything is. It will no longer take me an hour to find scissors, tape, or a pen. The baskets make it so easy!!
Here's the breakdown:
Wire baskets: $.40 x 7 = $2.80
Ceramic hearts: $.30 x 4 = $1.20
Wooden hearts: $.10 x 3 = $.30
Polka dot vase: $1.70
Glass jars: 4 x $.30 = $1.20
Labels: $5.00
Grand total: $12.20!!
I am seriously so happy with my newly organized cabinets, and for just $12!!!
When hunting for clearance items, it helps me to try to think of what something could be, not necessarily what it is. For example, the polka dot vase was obviously not made to hold cookie cutters and things, but rather to hold a plant. I think it could be used as so many different things. Just use your imagination and creativity, and you'll be surprised what you can find in the clearance section!
Now, you're going to want to check out these talented ladies to see what they have organized with just $15 worth of clearance finds!!
Terrie at Decorate And More With Tip
Cate at West Magnolia Charm
Debby at Debby Goes Shabby
Thank you for visiting LeCultivateur!!! Hope you have an amazing week!
~Emily
Check out where I have linked this project…. Blog link list