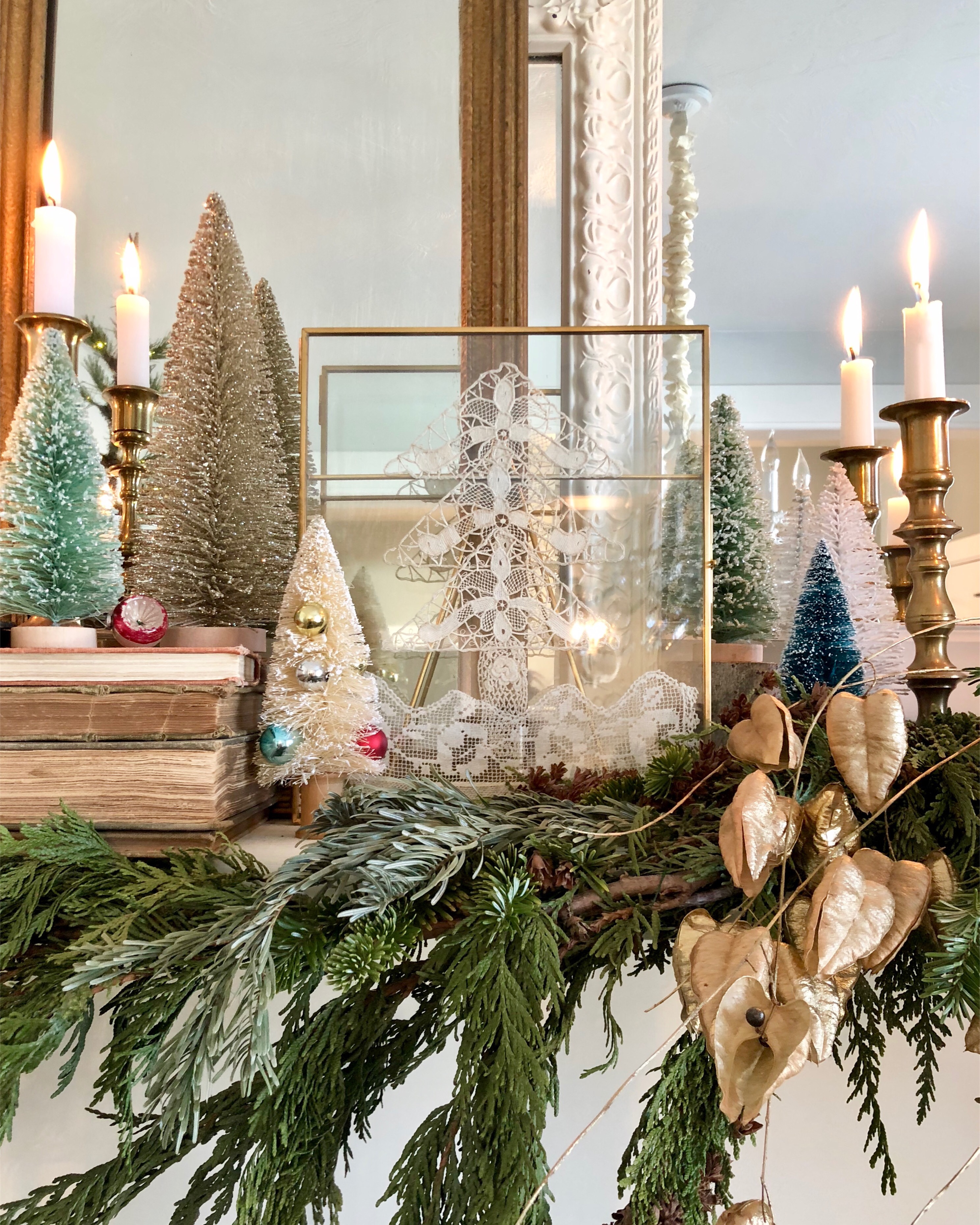 A Very Merry Little Living Room
Happy Monday, friends!!! Hope y'all had a wonderful weekend!! Just one week from today, is Christmas Eve, can you believe it! Time is flying by!!
Today, I'm so excited to be joining my friends Tara and Terrie, to share with y'all the Christmas decor in our living rooms.
My little living room is the space that I have most enjoyed decorating this year. After I added the faux fireplace this fall, I haven't been able to stop decorating the mantel!! I never knew that decorating a mantel could be so much fun! For details on how I built the faux fireplace, click HERE
I think I redid my fall mantel at least four or five times, and finally LOVED it, just as it was time to take it all down, to start on my winter decor. So, while my mantel looks done, maybe overdone????, it could possibly change a few more times in the next two weeks before Christmas is here. Please tell me that I'm not the only one, that is constantly adding and moving things around, until I finally have it just the way that I like it!
Here is how the room looks today…keep in mind, I am still on the hunt for the perfect rug. I've tried a few, but to no avail. Any suggestions?
Even just since last week when I posted my mantel for the musical Christmas blog hop, I've already changed it up a little. I took all the pink bottle brush trees down, and added quite a few more green and silver trees, with plans to possibly add a few more tomorrow.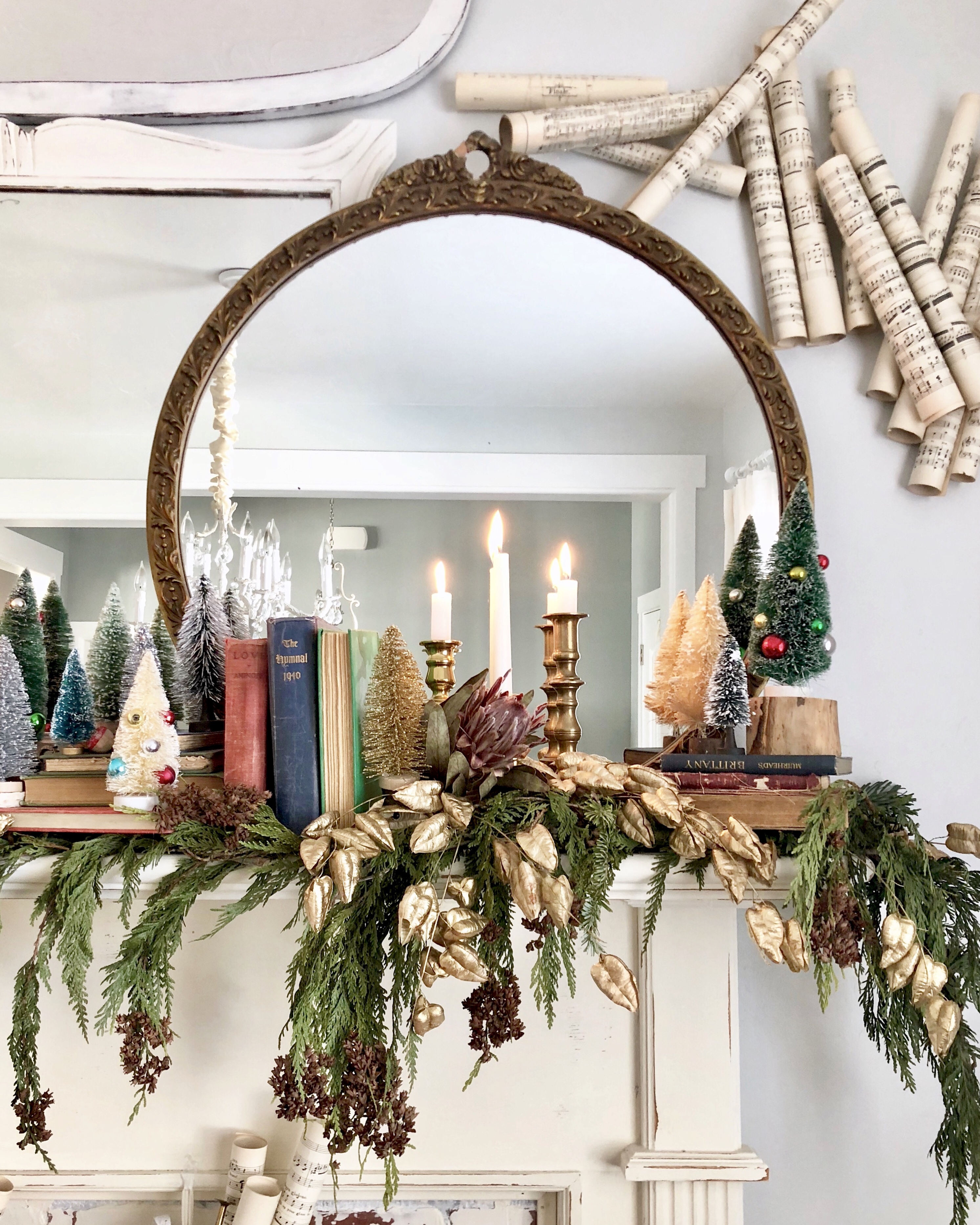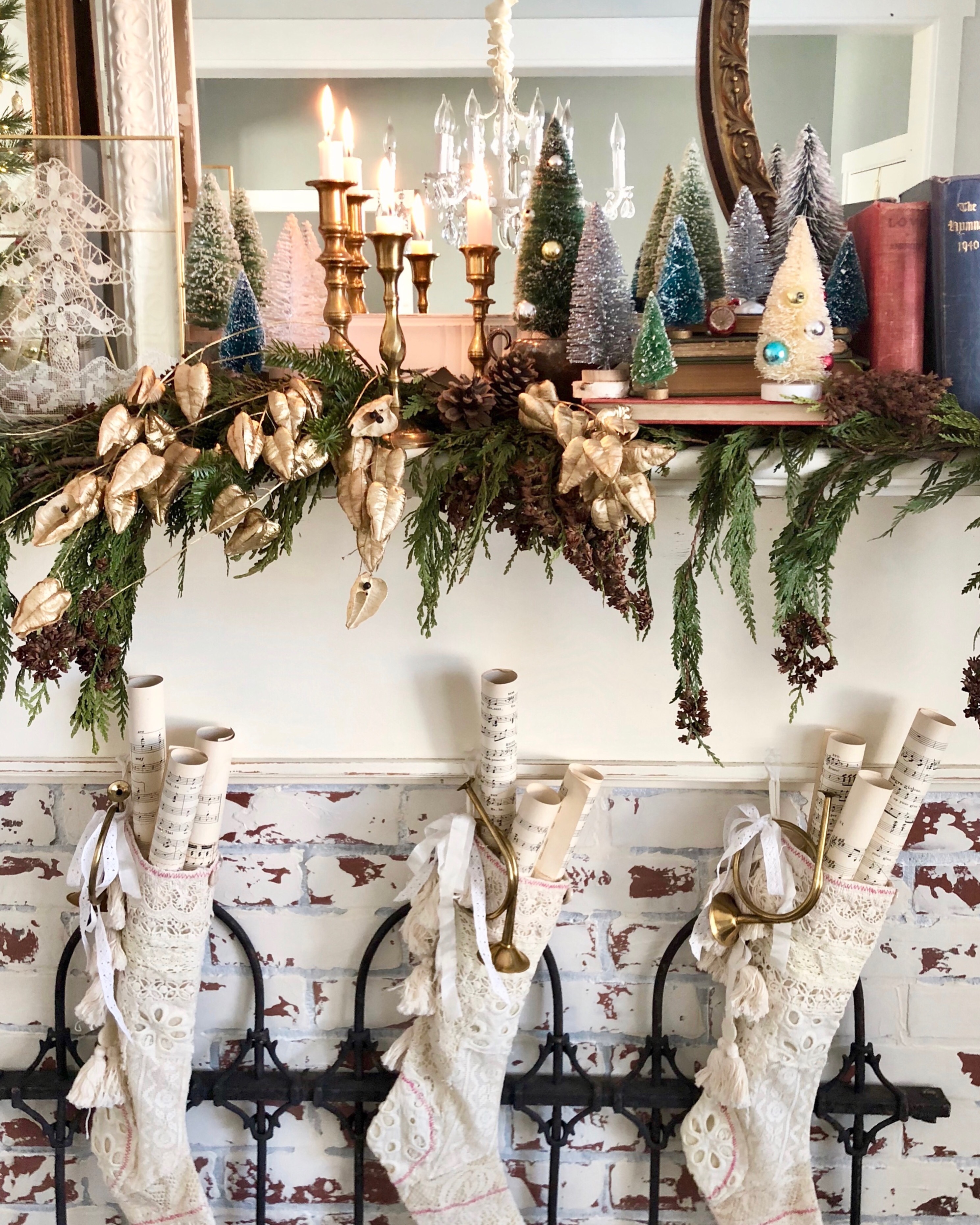 Fresh cedar, pinecones, and the seed pods from a Golden Rain Tree (that I spray painted gold), make up the bones of my mantel decor. I love to use fresh, natural elements as much, and as often as possible.
Do you remember the vintage lace pumpkin, that I made for my fall mantel (you can check it out by clicking HERE)? Well, the vintage lace pumpkin is put away with all his other pumpkin friends, and a vintage lace tree now fills the frame.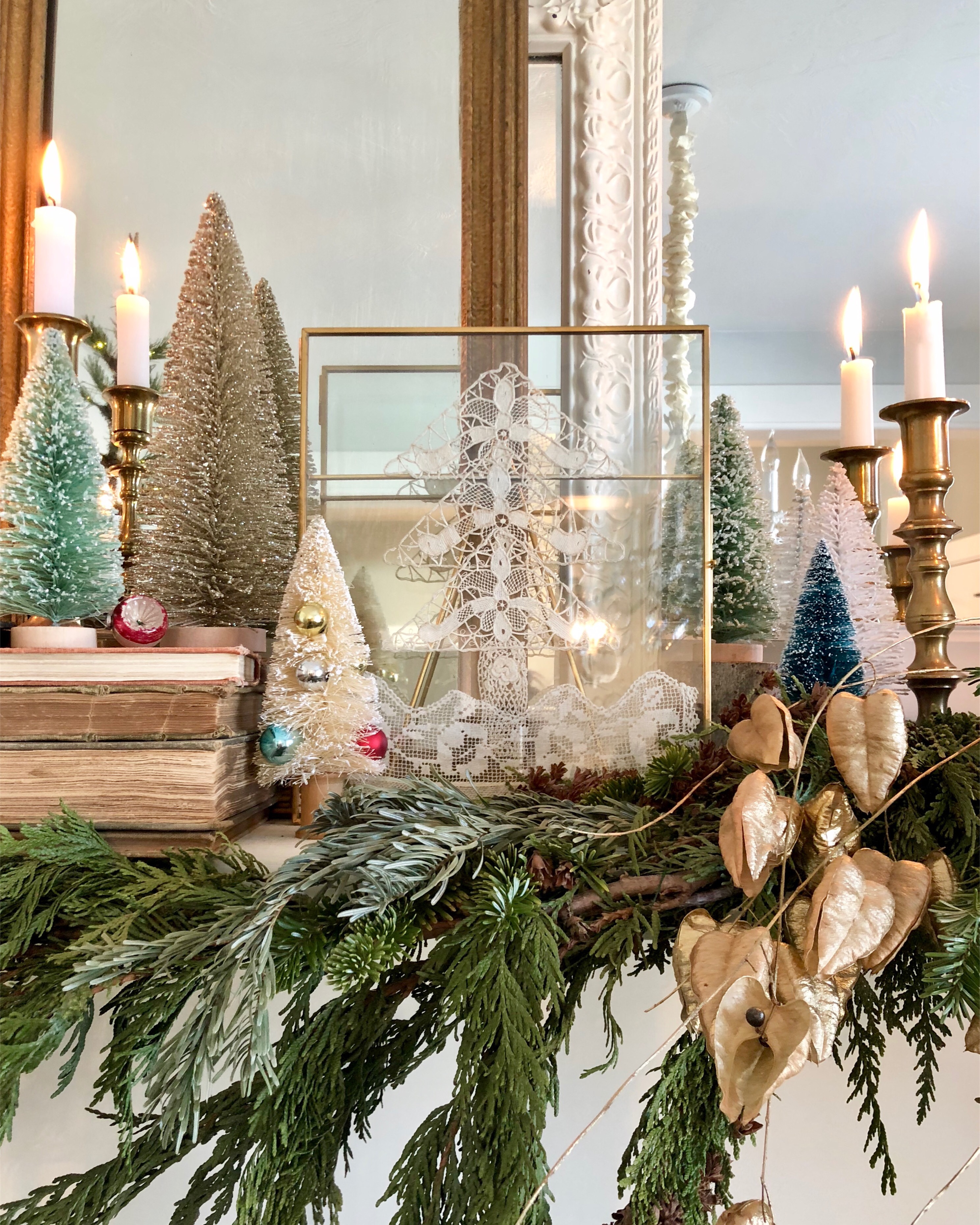 I made the lace tree with vintage lace collars. Isn't it amazing!! I love it so much!! Vintage lace is something that I buy whenever I see it! There are seriously so many uses for it.
And, my nativity scenes have already moved from my entryway, to the living room…I'm seriously ALWAYS changing things up!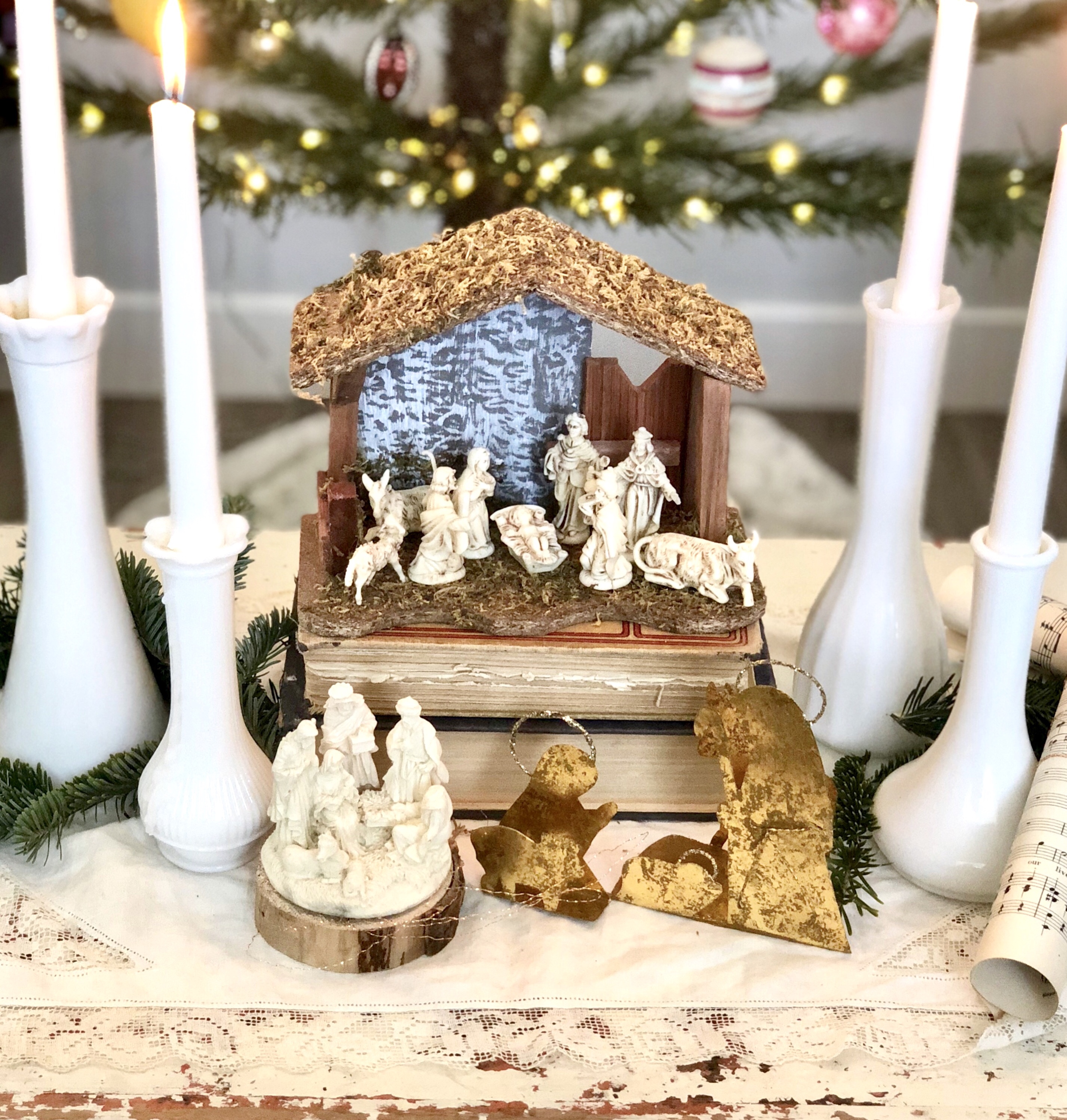 The Christmas tree in here, is the first faux tree that I have owned, and I love it! It's the perfect tree for all of my very favorite vintage ornaments.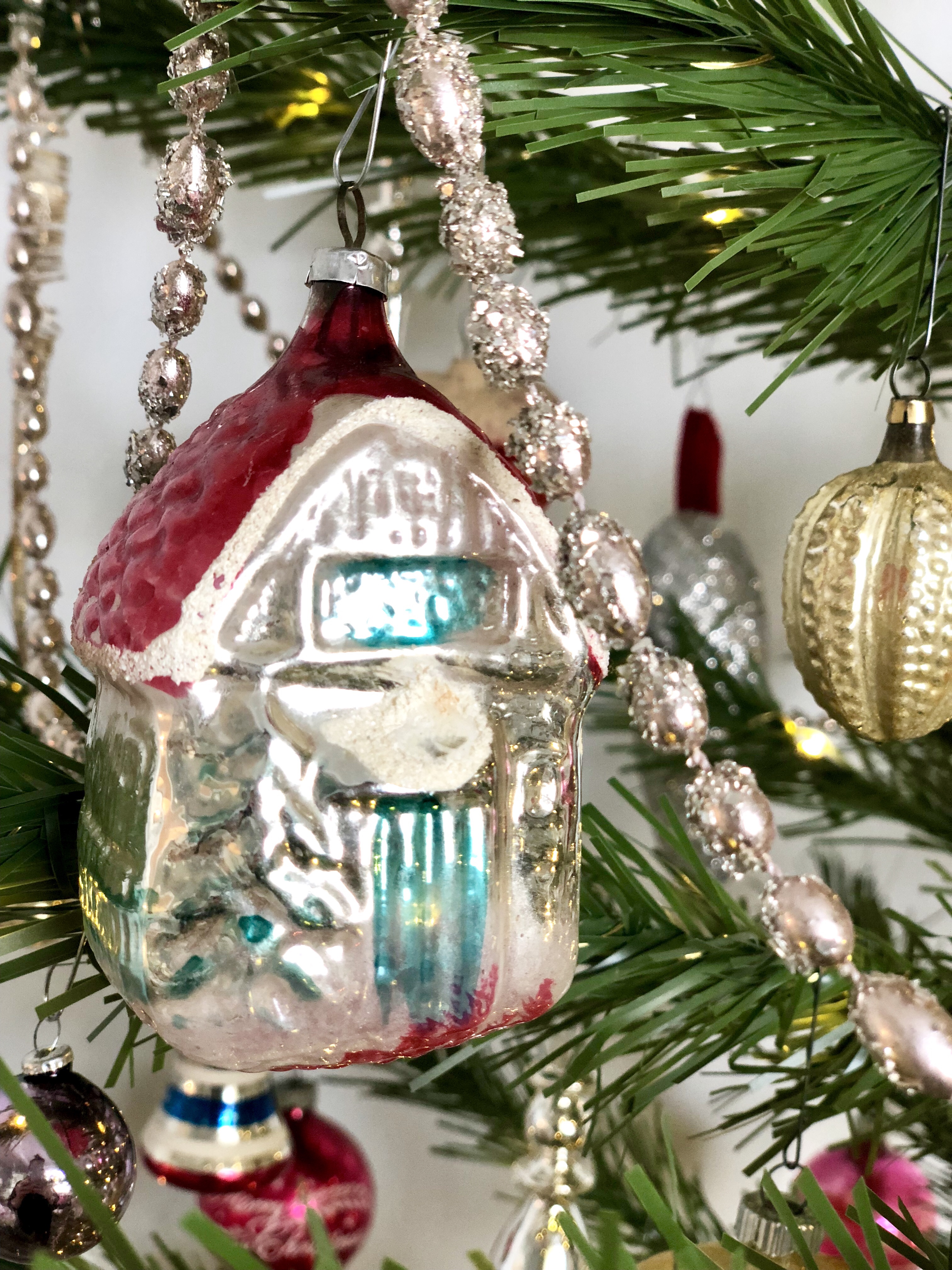 I hope you enjoyed this little tour. Be sure to click on the links below, to see what Tara and Terrie have done in their living rooms.
Tara at Stilettos and Shiplap 
Terrie at Decorate And More With Tip
Thank you so much for visiting LeCultivateur!
Check out where I have linked this week…. Blog link list