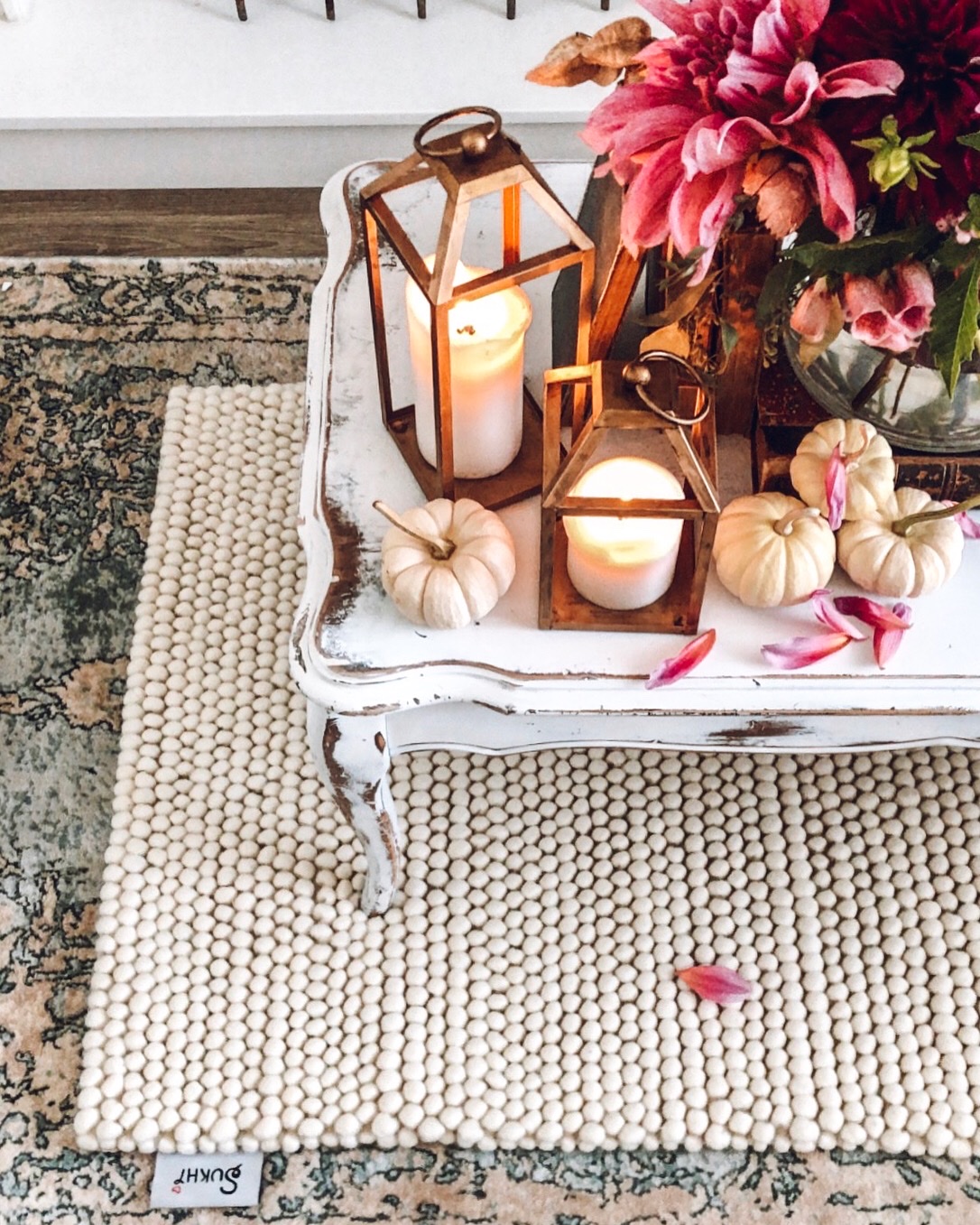 Hi friends!! Hope y'all are having an amazing week, full of all the fall feels! Fall weather is in full swing here! The temps have dropped, leaves have started to change color and fall from their branches, and the days have gotten much shorter! I truly love all of the cozy feels that come with the fall and winter months!
When thinking of fall/winter months, I think about being inside, and staying out of the dreaded cold weather! So naturally, I think about creating a cozy environment to be in! I love all the soft textures of throw blankets, pillows, and rugs. The ambiance that candles bring! And, of course, fresh flowers! They bring so much natural beauty, and truly bring a space alive! These are just a few elements that I like to add to my home to bring on the cozy vibes!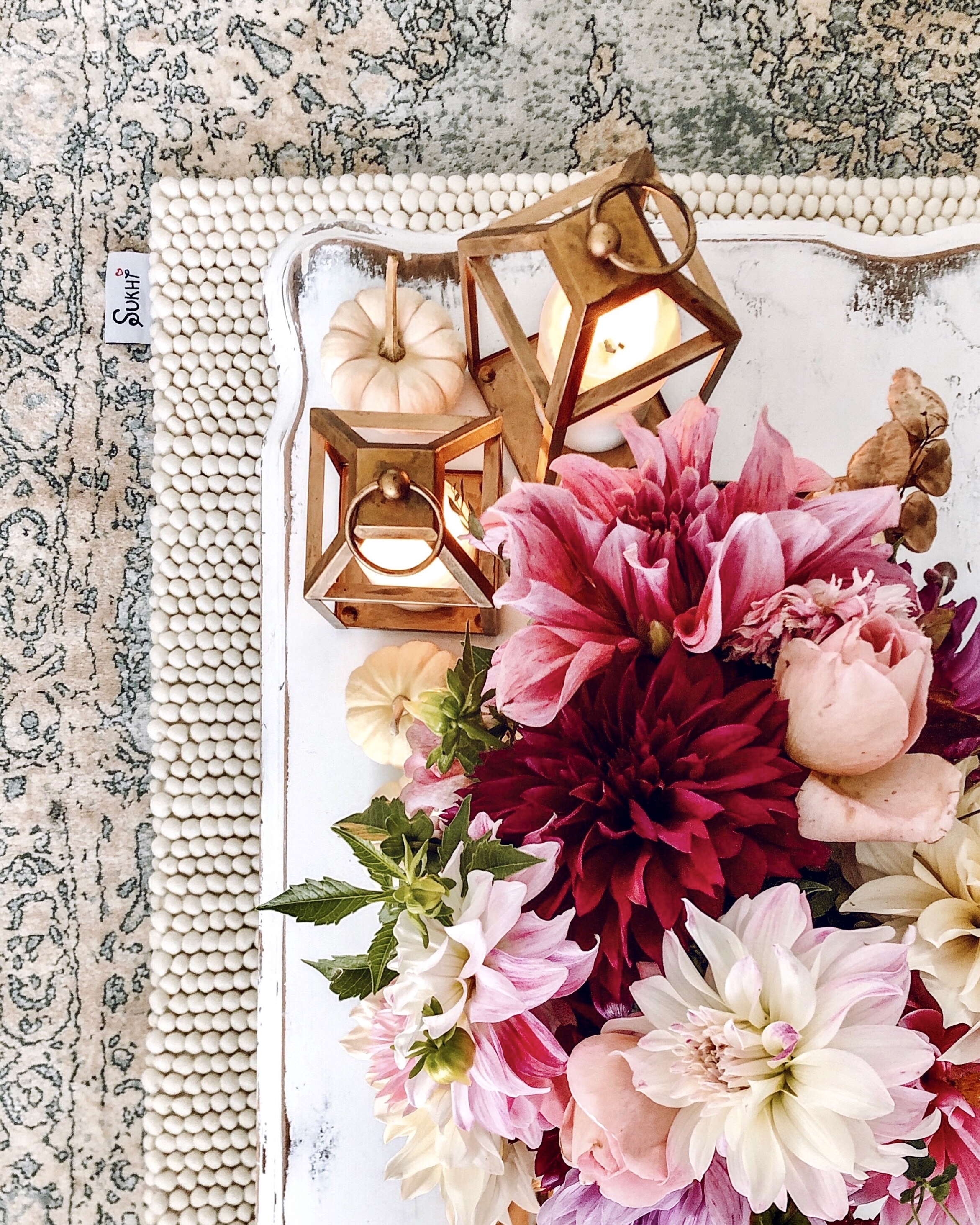 When I received the Ayush Rug, in the mail from Sukhi the other day, I was in love! Seriously, the coziest, softest rug that I have ever stepped foot on, not to mention it is absolutely beautiful!! It has all of the cozy feels that we all love to add to our homes!!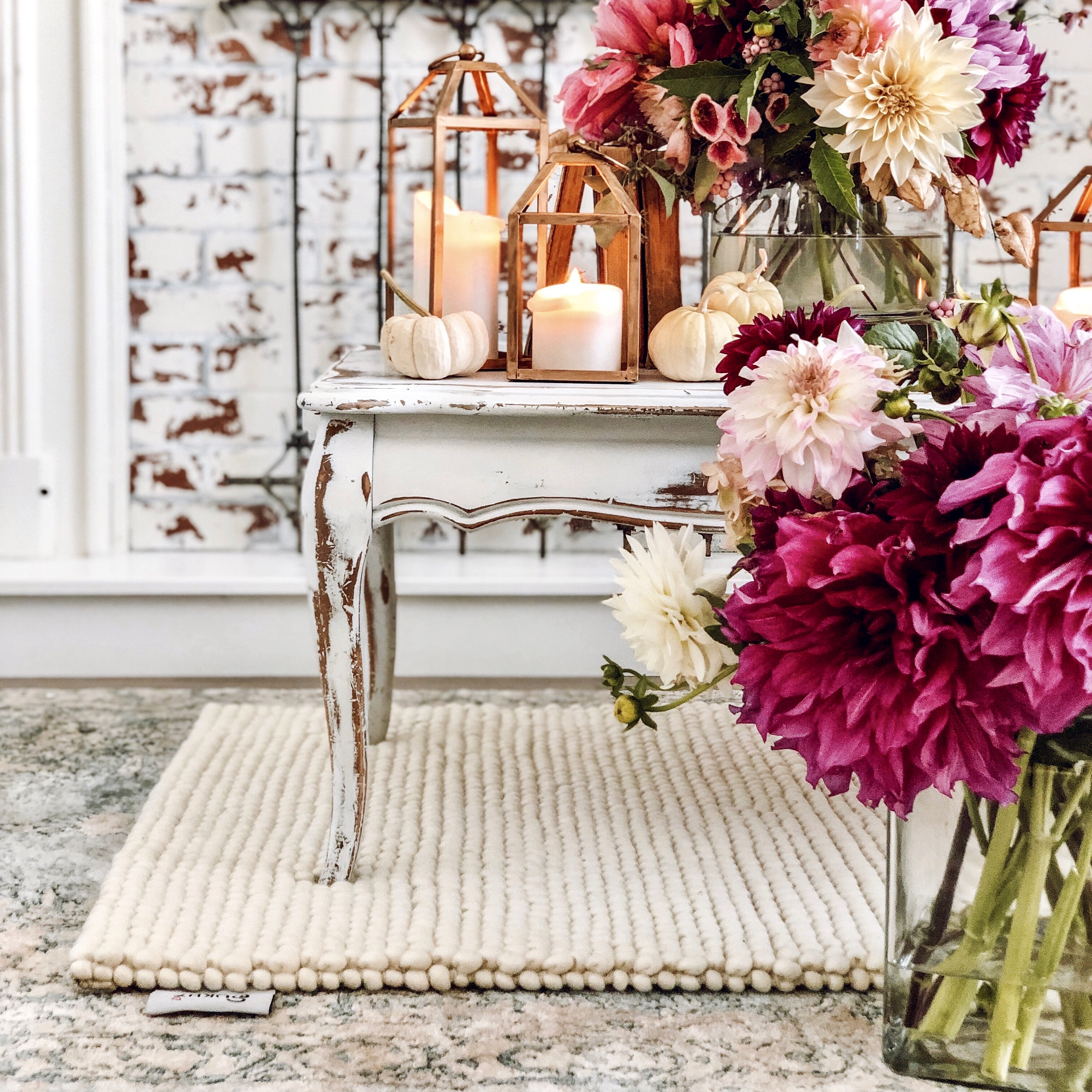 When someone from Sukhi reached out to me about their rugs, I was intrigued, but what truly sold me on their rugs, is their story! In Nepali, Sukhi means "happy", and I truly think that is the perfect name for their company! Not only will these rugs make you happy, seeing and feeling such a beautiful, handmade masterpiece in your home, but it also makes the artisans happy that you have bought, and are enjoying one of their works of art!
Every rug from Sukhi is handmade, by craftspeople in India. And, something to mention, that is VERY important to me, they are child labor free! We've all heard the horror stories about sweet young children being forced to work. I personally, would NEVER promote a company that allows child laborers! Children deserve to be children! Sukhi employs adult craftspeople, who are paid fair wages. Making a better life possible for these artisans and their families!
Sukhi is helping artisans around the globe, keep their age old traditions of hand making these beautiful rugs, stay alive!
The rug that I received from Sukhi is named "Ayush" woolen loop rug. Another, interesting fact about Sukhi, some of the rugs are named after their artisans! Love it!!
Sukhi has so many beautiful rugs to choose from, and even offer customizable rugs! If you are looking for the perfect rug for your home, definitely visit Sukhi's website! You'll find so many beautiful rugs to choose from, you can read about their mission to keep the artistry of handmade rug making alive, and even see pictures of all of their craftspeople!
I feel truly honored to have this rug from Sukhi, in my home! This rug was made with love and pride, and it truly shows in the beauty and quality of the rug!
I would love for you to visit Sukhi's website and let me know what you think!!
Thank you so much for visiting LeCultivateur, and for being so supportive and kind!! So much love to you all!
~Emily
Check out where I have linked this project…. Blog link list