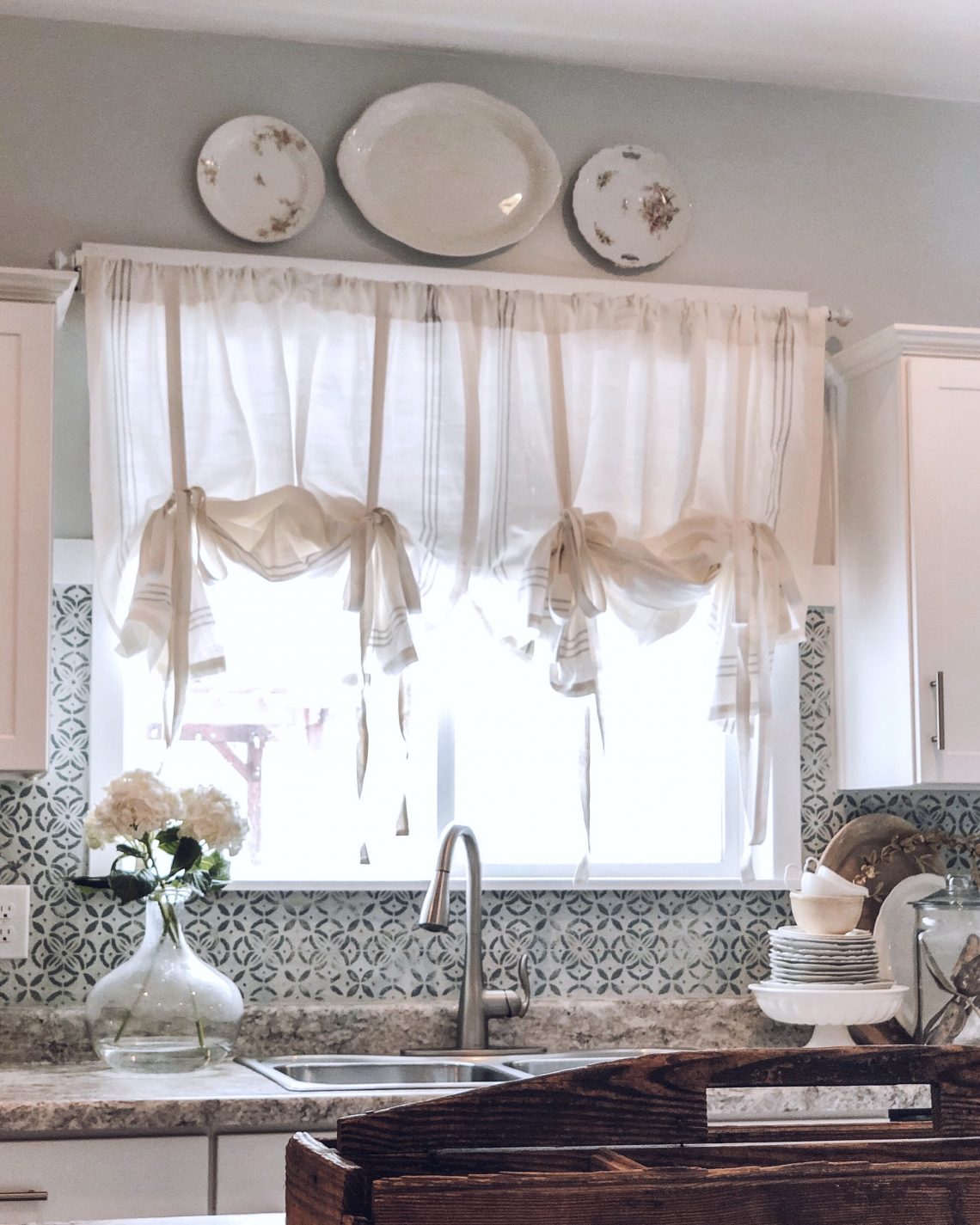 I had so many questions about my backsplash last week, so I thought I would share all the details with y'all.
You know those projects that you really want to get to, but in order to get to them, you have so many other projects to completely first? That's how I was feeling about the backsplash in my kitchen. I really want to put up a beautiful backsplash, but that can't happen until I get new countertops, which can't happen until I redo my island. All of these things, counter tops, backsplash, redoing my island, are all things that are on the "wait" list. While I'm waiting to do all of these things, why not add a little visual interest to brighten up my kitchen? This stenciled backsplash was the perfect solution!
I started by painting all of the walls in my kitchen, including the backsplash area. For the paint, I used a discontinued Martha Stewart color called "cumulus cloud", in satin sheen. This is my all time favorite wall color. It's the perfect mix of warm gray, with just the slightest touch of blue.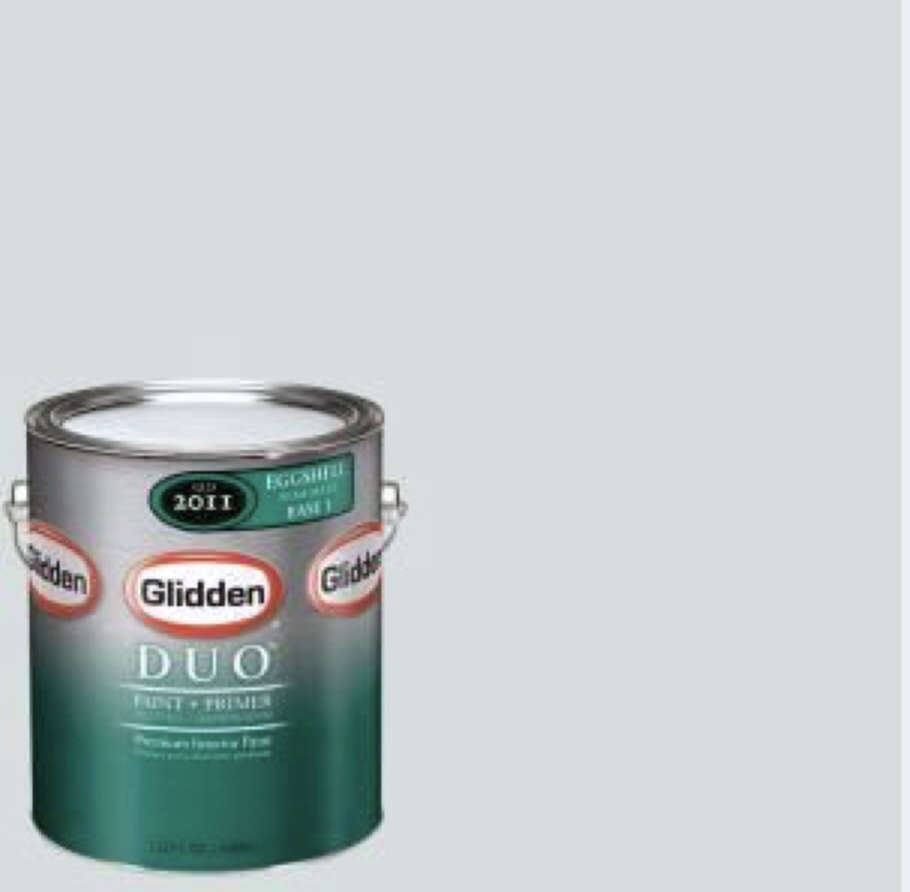 You cannot get this color mixed at Home Depot anymore, but if you go to Lowe's and ask them to look up a discontinued Martha Stewart color, they totally will.
After my entire kitchen was painted, it was time to stencil!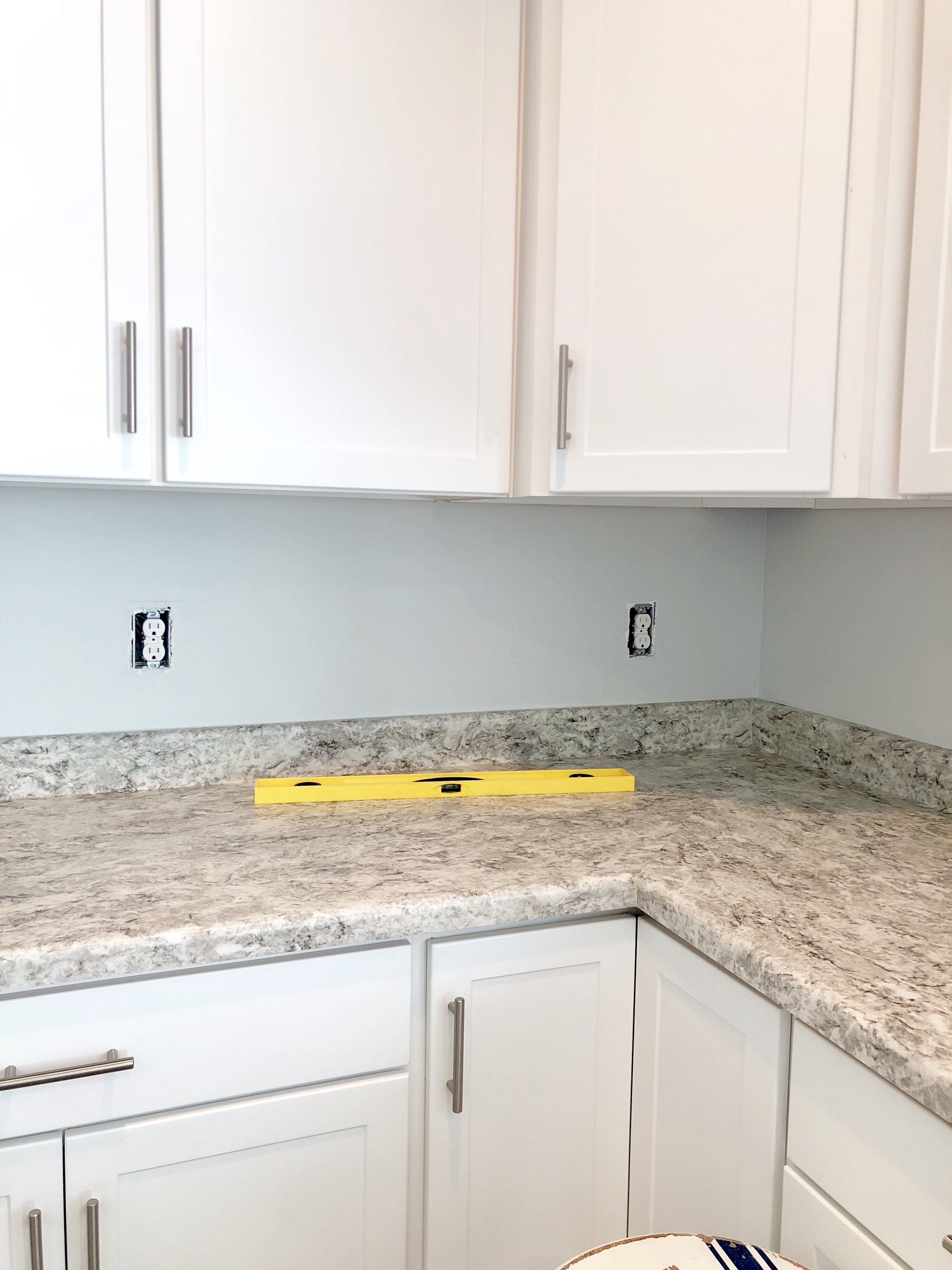 The stencil that I used is no longer available, but here are some other great options. All of which would be perfect for a backsplash.
. SOURCE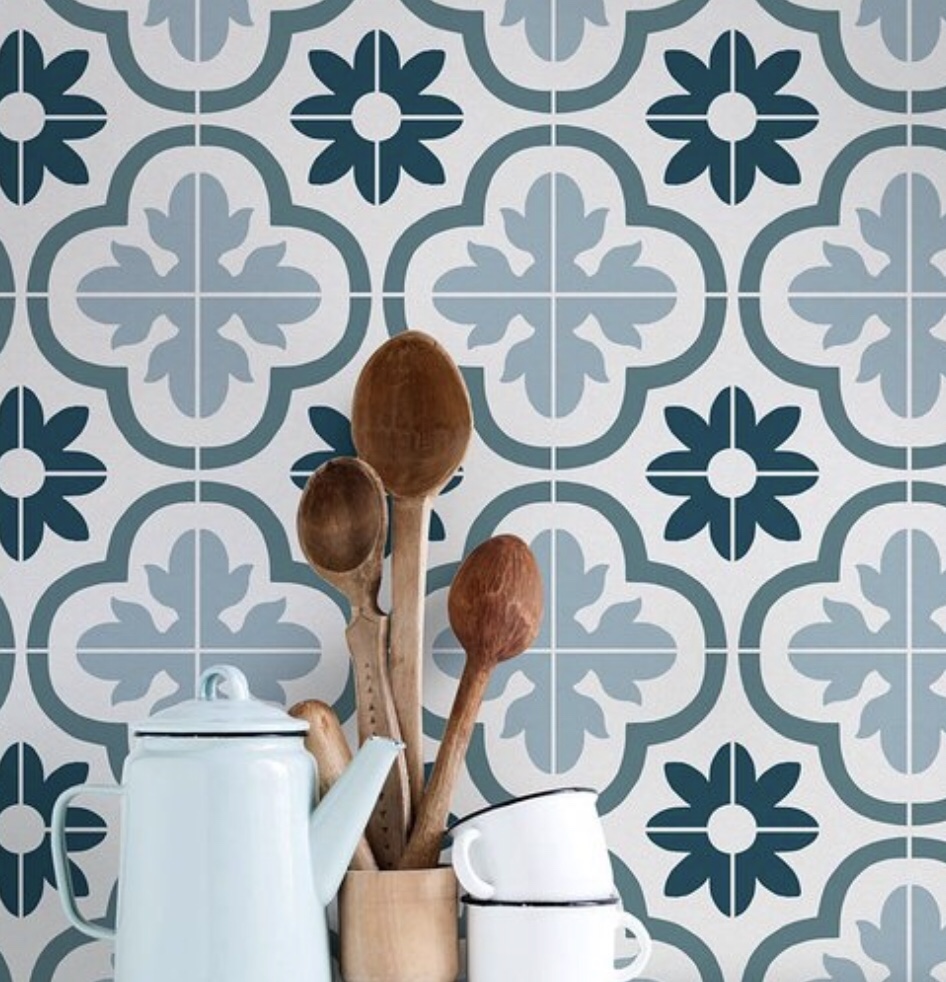 . SOURCE
. SOURCE
Using spray adhesive, I sprayed the back of the stencil, and then firmly pressed the stencil on the wall. Using a level, make sure your stencil is placed on the wall straight, and level. The spray adhesive helps keep the stencil in place while you are stenciling. Using spray adhesive was so incredibly helpful! The adhesive that I used, wasn't insanely strong, yet it did the job well. If you get a spray adhesive that is really strong, it could potentially take the paint off of your wall, when you're peeling the stencil off. This is what I used…
Also, you will need a stencil brush such as this one.
. SOURCE
You could get a more expensive brush, but this one worked perfectly for me. I never seem to remember to wash my brushes out, I end up throwing them away most of the time, so I hate to invest too much into a good brush.
Once the stencil was in place on the wall (I started in a corner), I applied a thin coat of my darker paint color. It is important that you don't use too much paint on the stencil, or it will seep under the stencil and create a big mess. I blotted my paint brush on a paper towel each time before I painted on the stencil. For my top color, I used another discontinued Martha Stewart color called "schoolhouse slate", also in satin sheen. It's such a beautiful, rich color!
After I finished the first little section, I didn't love it. It wasn't turning out how I had envisioned.
Sometimes when I'm getting frustrated with a project, and I'm not loving how it's looking, it helps to leave it for a couple hours before finishing it up. I kept looking at it, and wondering how I was going to change it a bit to fit my style a little better. I knew that I would like it better if it had an aged, worn look. I grabbed a Mr. Clean eraser, got it slightly wet, and started to scrub. The paint had been drying for two hours, which was key. If the paint wasn't dry, the paint would have wiped off completely with the Mr. Clean eraser. I was able to create a look that I love, simply by distressing it slightly with a wet Mr. Clean eraser!
After you finish the entire backsplash, you could add a top coat to help protect the paint. I did not add a top coat, and haven't had any problems with it. I can easily wipe any messes off of the backsplash, without damaging the painted design.
Simple as that, you've got yourself an easy, inexpensive, beautiful backsplash!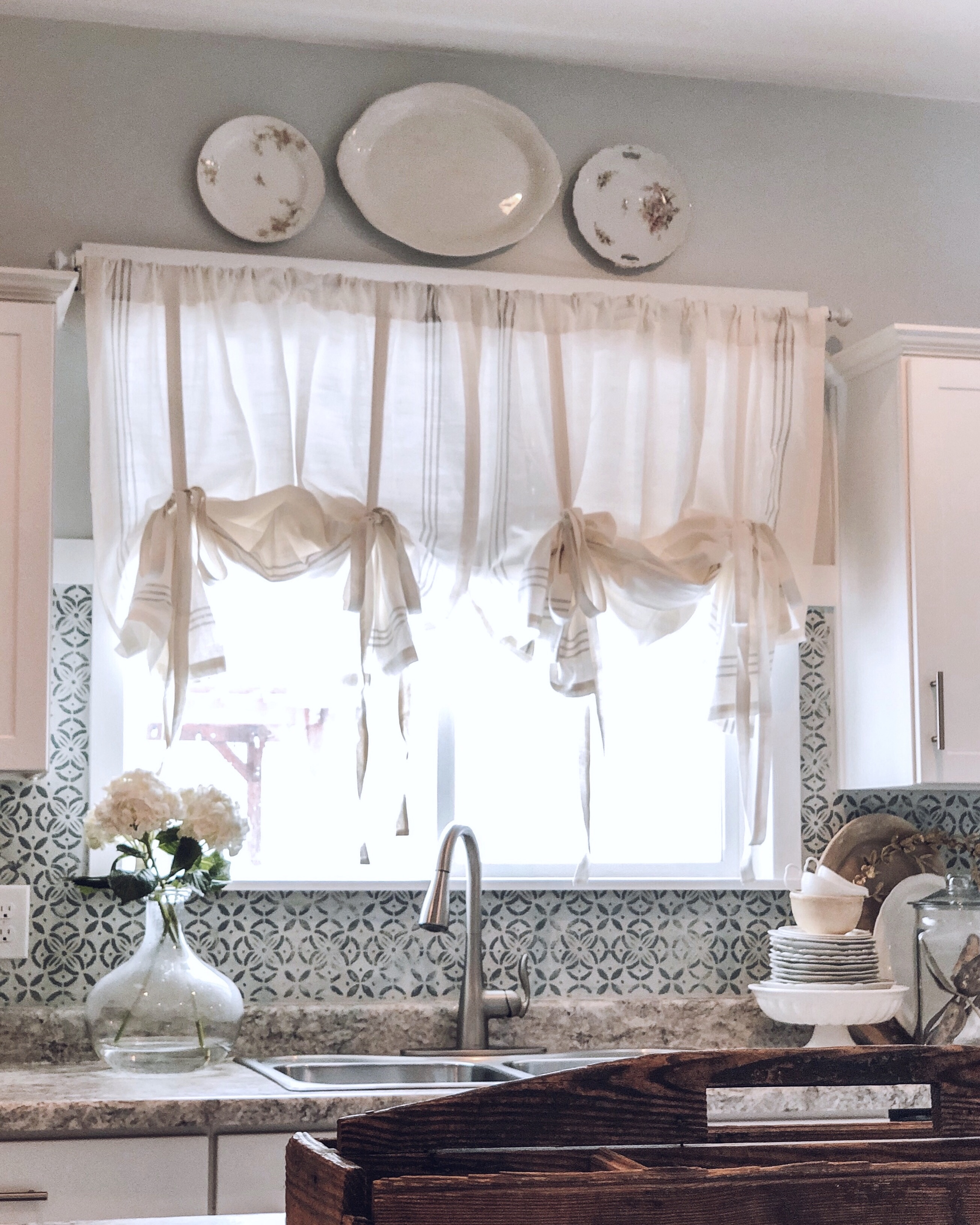 And, if you love these curtain as much as I do, you can purchase them HERE.
Thank you so much for visiting LeCultivateur!!! I sincerely appreciate you taking the time to read my blog, and for leaving me such sweet comments! Y'all are the best!!!
~Emily
Check out where I have linked this project…. Blog link list