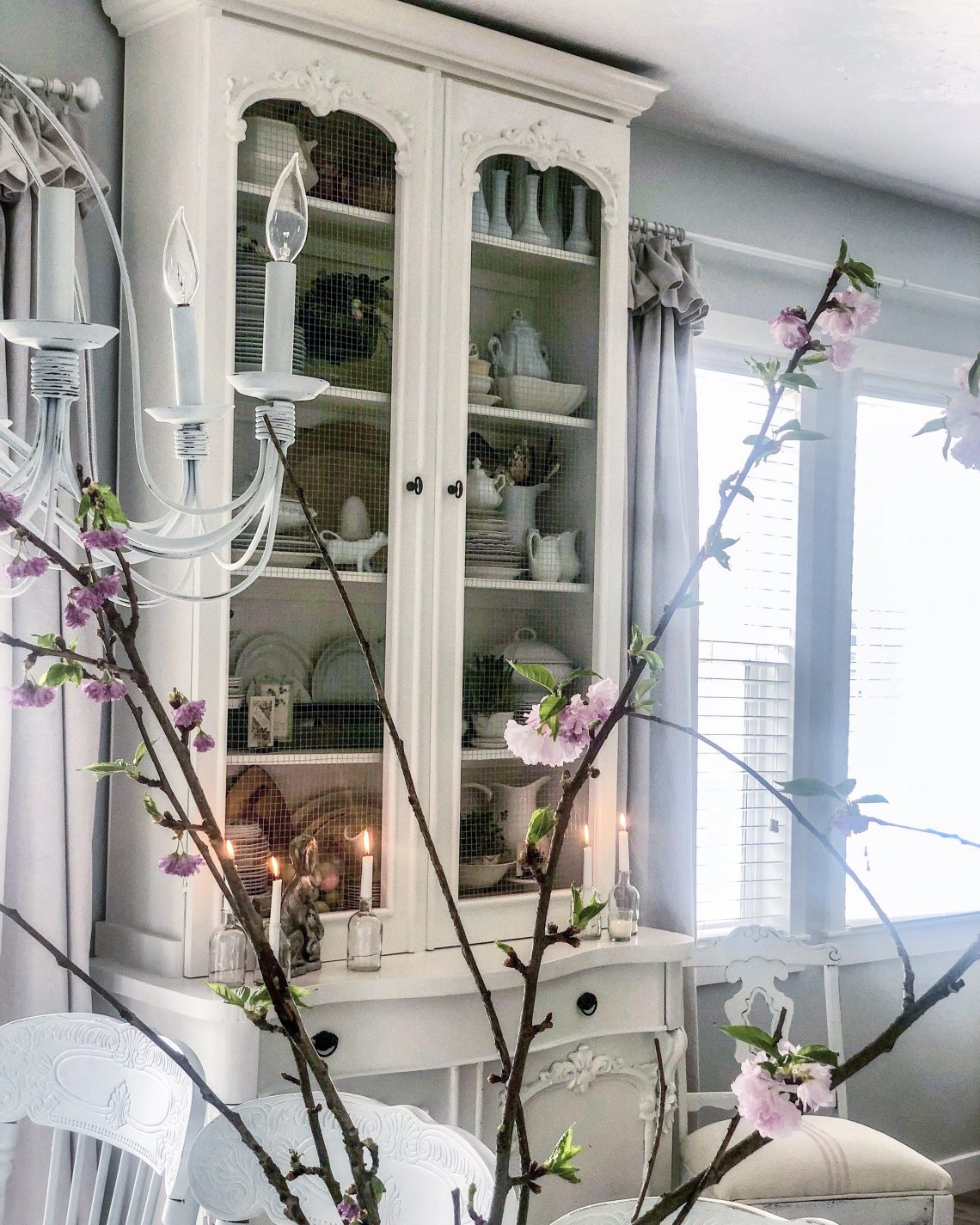 Happy Friday, friends!! I am beyond excited to show y'all the china hutch that I made, using this amazing antique buffet.
I also used a bookshelf, that I built a few years ago, to house all of my boys' books. I loved having all of their books, at the end of the hall, right by their rooms. Now that their playroom is done, I love having all the books in their playroom.
After I emptied out the book case, I took it out to my garage, to start working on it. I just had to take a few inches off the top, and add doors.
It took me less than a weekend to build this, probably a total of 4 or 5 hours.
The doors were really easy to make. I made simple, shaker style doors.
Using select pine 1×2, 1×3, and 1×5, I measured how tall and wide I wanted each door to be, cut my boards to length. Then created two pocket holes on both ends of the two side pieces. I used a "Kreg Jig mini" to make the pocket holes. It is so easy to use, just clamp in place, and drill.
I then traced the appliqué, that I made (you can click HERE, to see how I easily made this appliqué to match the buffet)
onto the header board, and cut the board using a jigsaw.
I used my Dremel to slightly router out the space for the hinges.
I then glued the appliqués onto the cabinet doors, using both wood glue, and E6000 glue. After the glue dried overnight, I filled in the nail holes with wood putty. And, now I was ready to bring this creation into my house, to meet her new companion.
I ALWAYS secure my larger pieces of furniture to the wall. It is so important to be cautious and safe, especially with my four sweet boys running around the house, all the time.
I secured a 1×4 to my wall, making sure to screw it into the studs in the wall. Studs are generally 16 inches apart, when you find one, just measure 16 inch to the next one.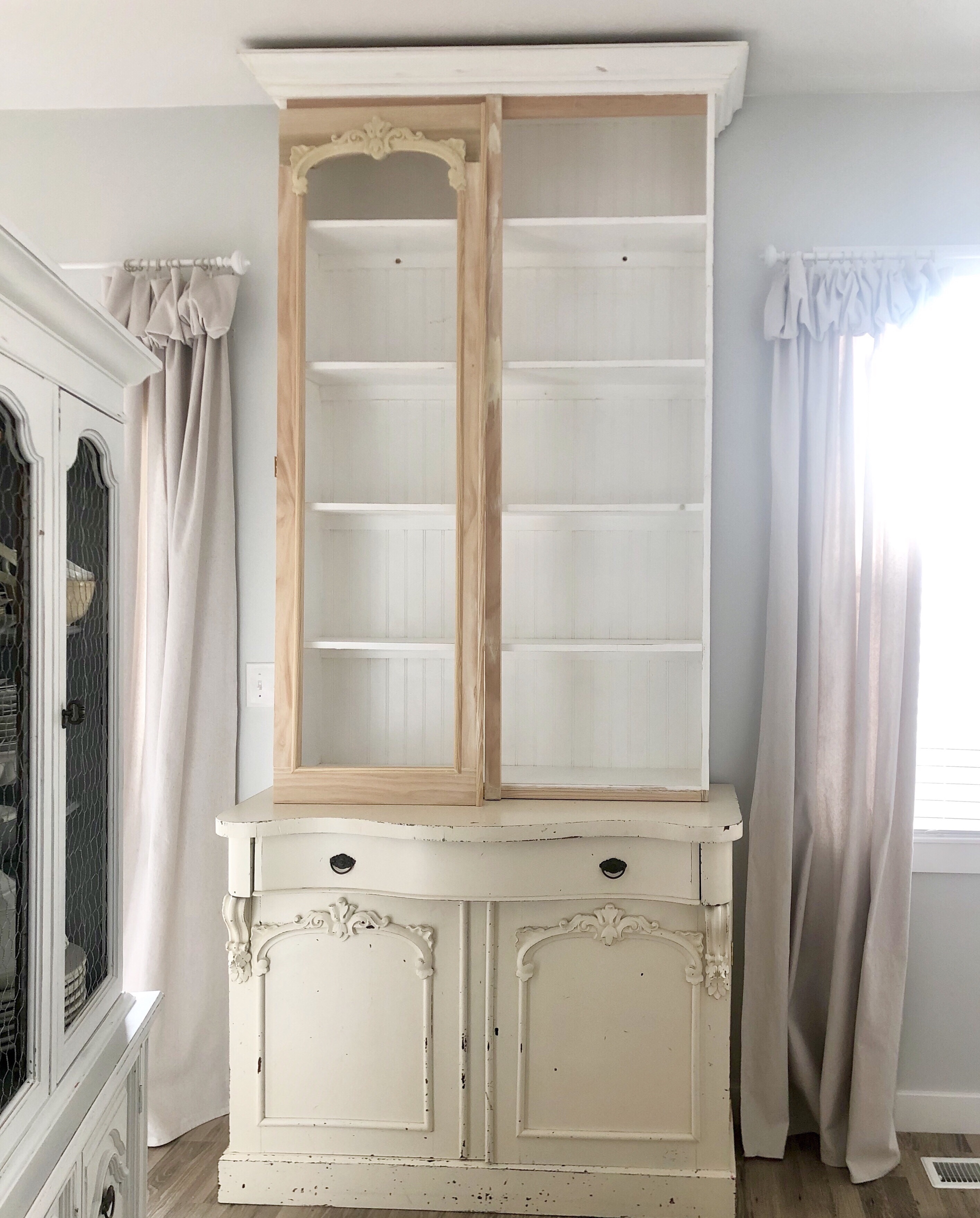 I then screwed the cabinet to the 1×4, that I just secured to the wall.
Put the other door on…
And she was finally ready for a new coat of paint! I painted her the same color that I recently painted my mudroom, "White Dove" by Benjamin Moore.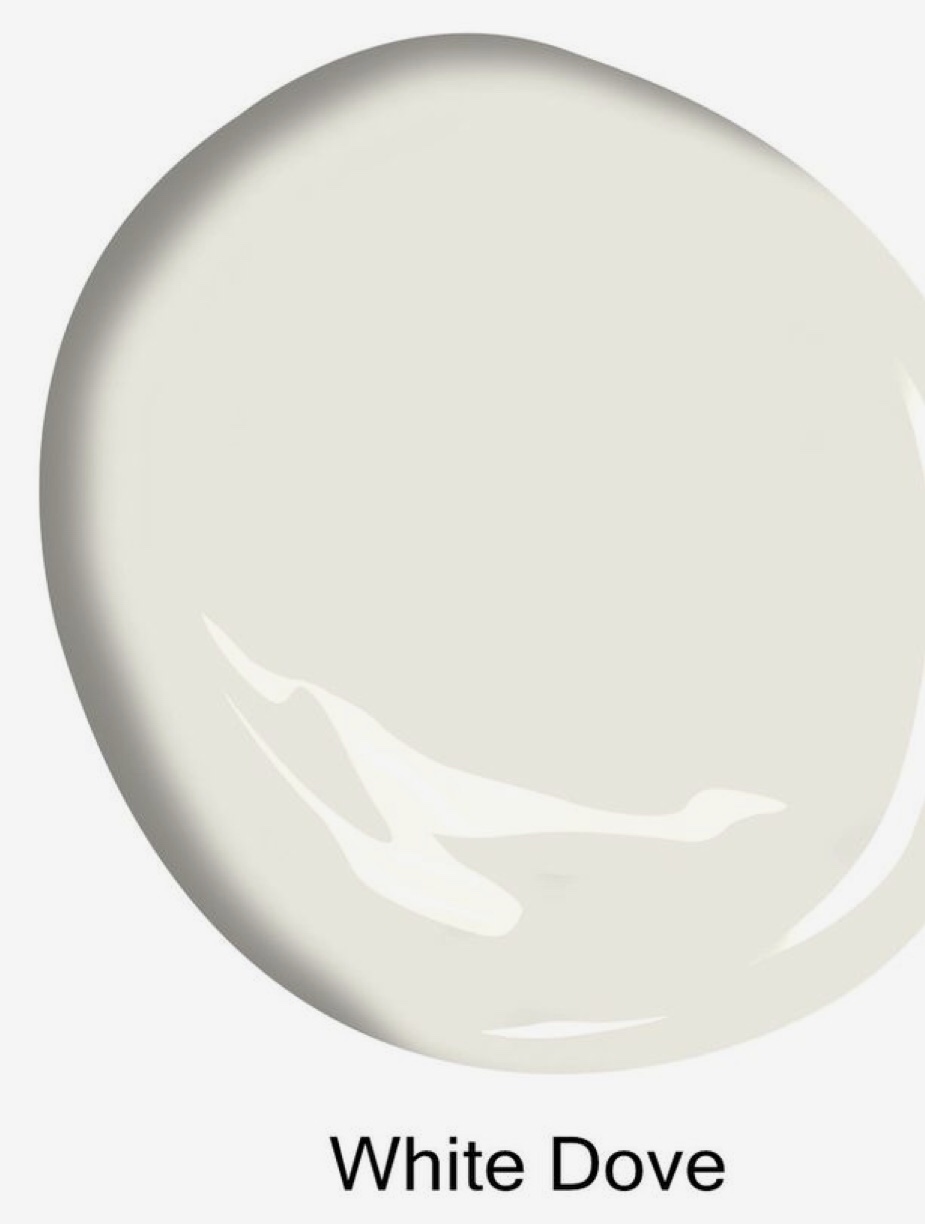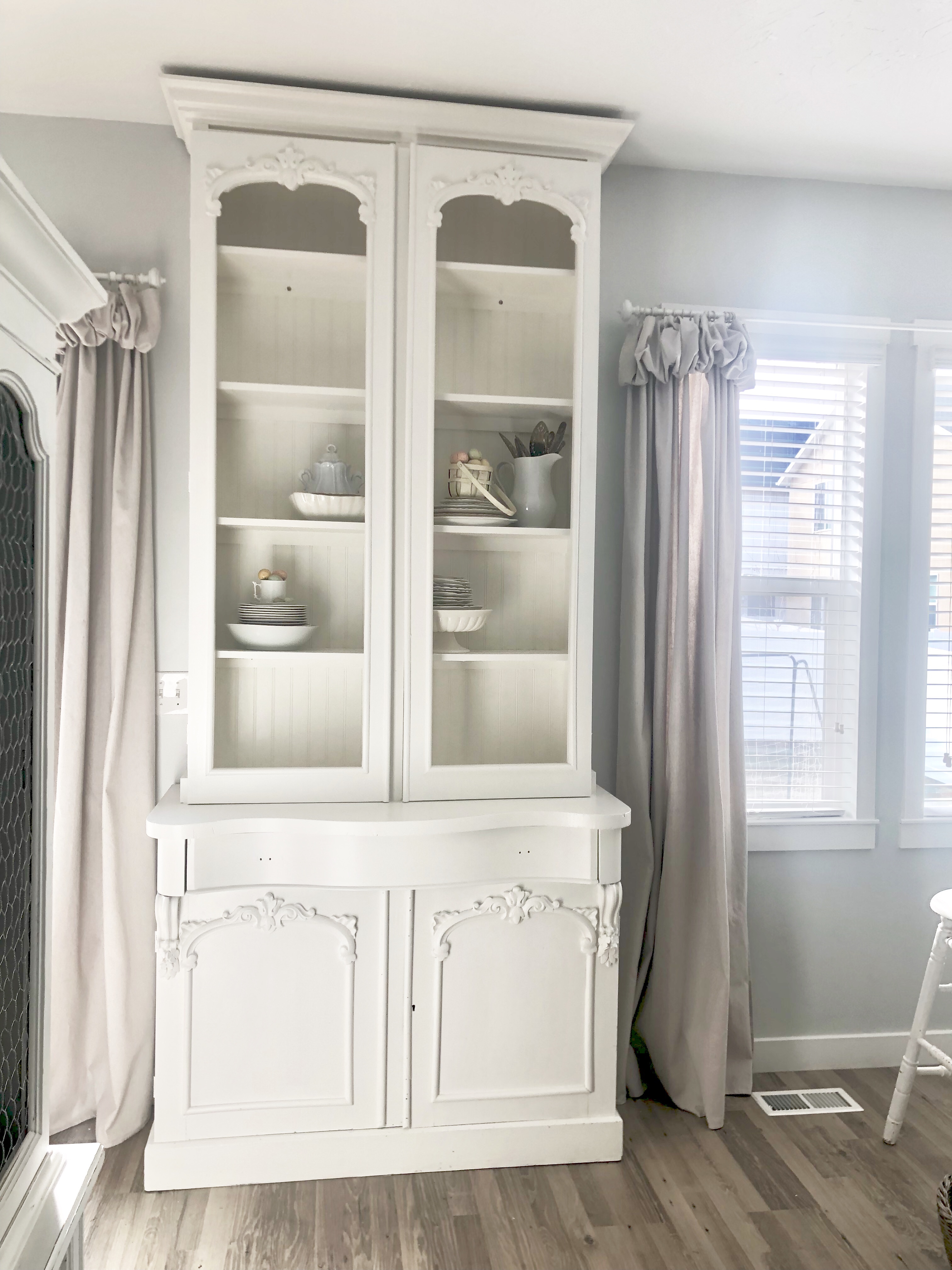 I was a little unsure of what I would put in the doors. I was leaning towards glass, but knew that I couldn't add glass while my boys are still young. They are always playing ball in the house, and rough housing. I would hate for the glass to break, and for someone to get hurt. And, I don't ever want to have anything in my home that I am overly worried about getting ruined, because let's face it, kids need to be kids. I also thought about leaving the doors open, nothing in them, but it looked so unfinished to me. So, I decided on something called "mesh cloth" It's right next to the chicken wire. It's basically the same as chicken wire, just small squares, instead of hexagons.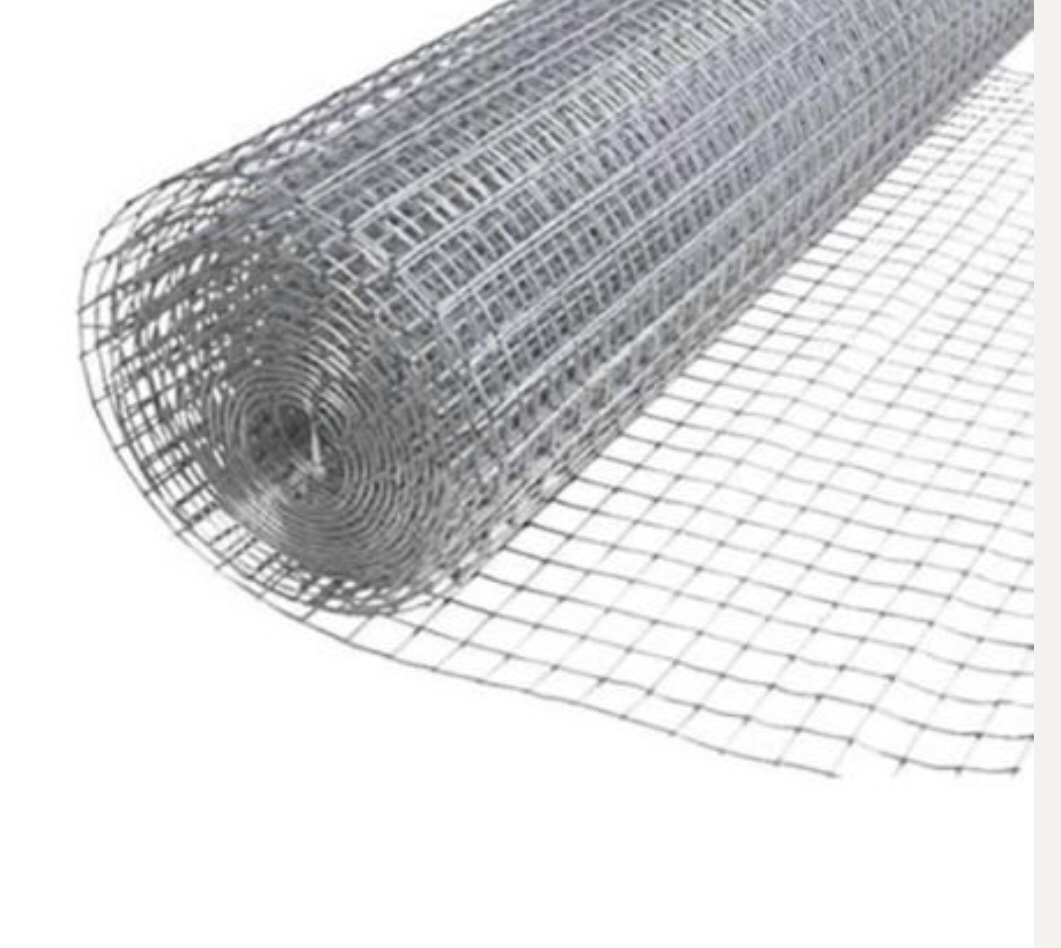 I am so excited about my new hutch. Its going to be so much fun to decorate for all the seasons.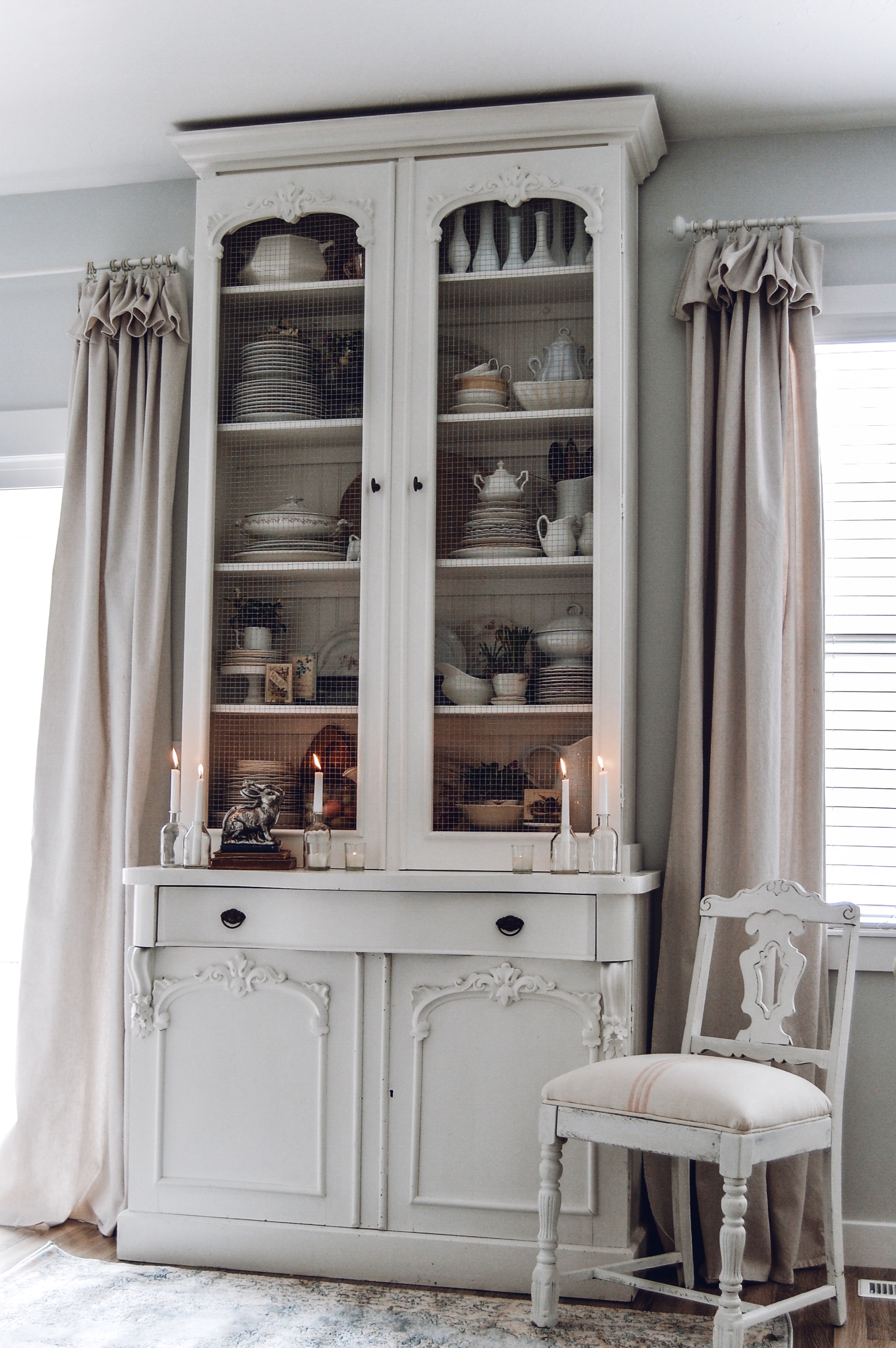 And, don't worry, my beloved hutch that was here before…
Well, it has a new home upstairs, in the little nook, at the end of the hall, where the bookshelf used to be. Just more places for me to decorate!! Yay!
If you are feeling intimidated by DIY projects, you should really just give it a try. I remember the first project that I attempted, it was a complete disaster! But you know what, I haven't given up, and now, ten years later, DIY projects are a little easier for me. Trust me, I still have projects that are a big mess, and completely screwed up. But, creating makes my heart so happy, so I want everyone who wants to experience creating something, to just do it! If ever you have any questions at all, you can leave a message here, or email me at inquiries@lecultivateur.com
Thank you so much for visiting my blog, LeCultivateur!!! I so appreciate YOU taking the time to read my blog, and for leaving such sweet comments!! Y'all are the best, and make blogging so much fun!!
Hope you have a wonderful weekend!!!
~Emily