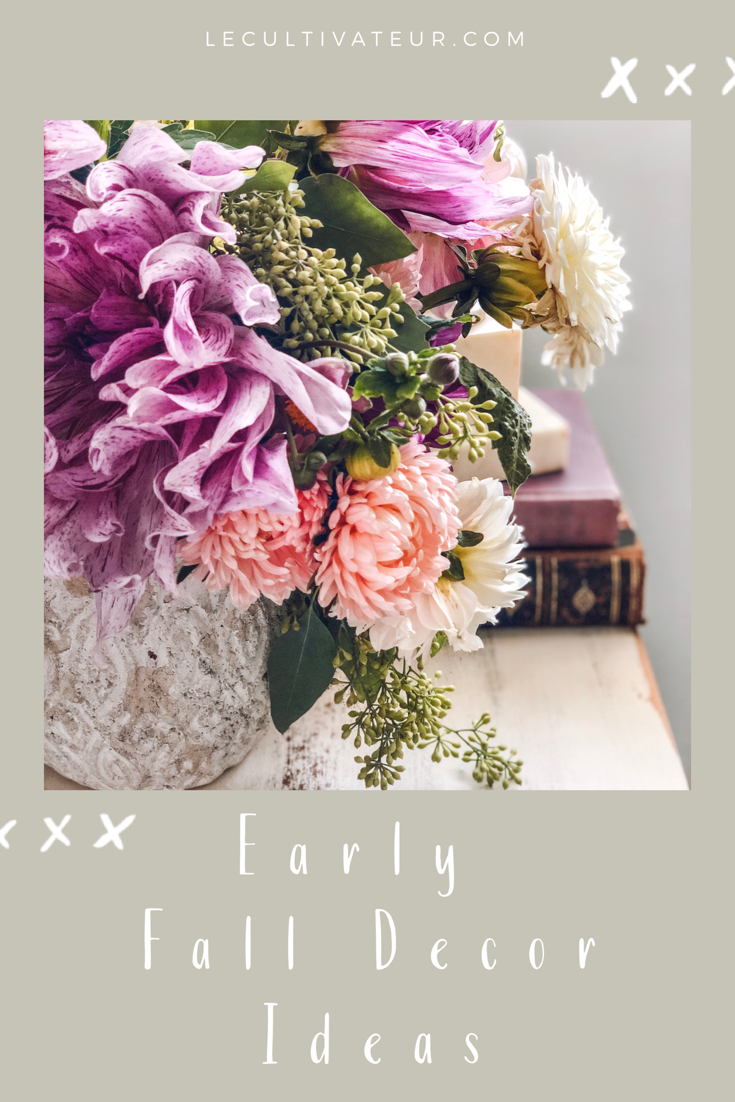 Happy Friday, friends!!
We made it through the first week of school here. My boys all LOVE their teachers, and have had so much fun being back at school. I'm so glad that they all love school as much as they do, it sure makes back to school time so much easier!
Today, I am so excited show y'all a few ways that I have started to incorporate fall decor into my home. Tara, from Stilettos and Shiplap, is also sharing some fall decor ideas on her blog today. Her link is at the bottom of this post, along with some of her pictures to check out!
You all probably know that I am a summer girl, through and through! But, fall has it's appealing characteristics too! I love all the cozy vibes, and all the beautiful colors that fall brings. Those are the things that I think about when bringing fall decor into my home. Cozy + beautiful rich fall colors!
When I start to bring fall decor into my home, I always start slow. I'm not rushing out to buy a car load of fresh pumpkins, not just yet at least. This year, I started gathering inspiration by clipping some late summer/early fall flowers from my garden….dahlias, anemones, asters, etc.
It so much fun to see different flowers change at the slightest change in temperature. The cooler weather always brings such beautiful, rich colors. The temperatures haven't dropped just yet, but my late summer/early fall flowers are blooming, and my hydrangeas are starting to change color. So exciting!
I started by placing a bunch of freshly cut hydrangeas, in a concrete basket, in my entryway. These sweet blooms were pure white, just a week ago! They've started to do their thing, and change color!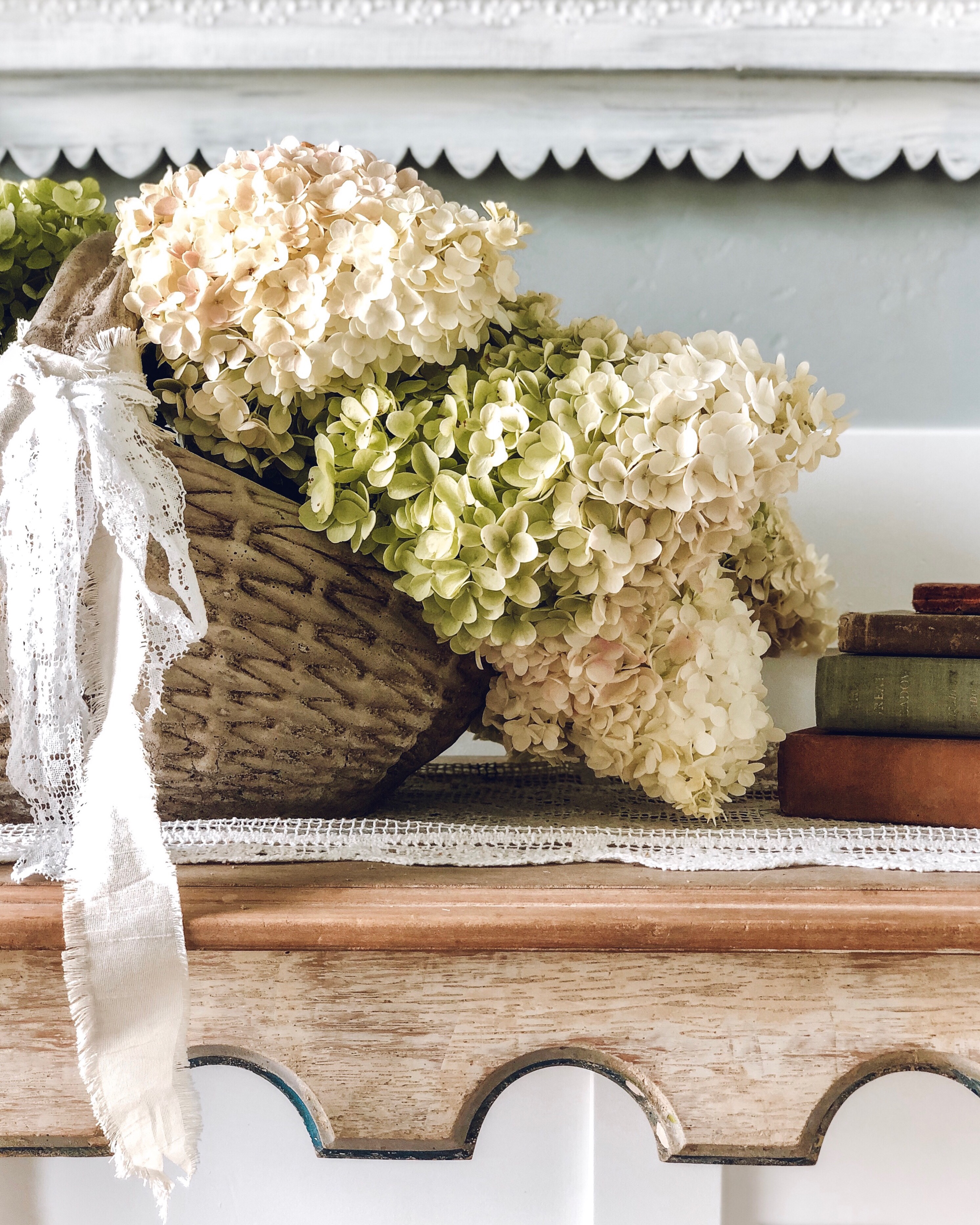 Keeping it really simple for my early fall decor this year.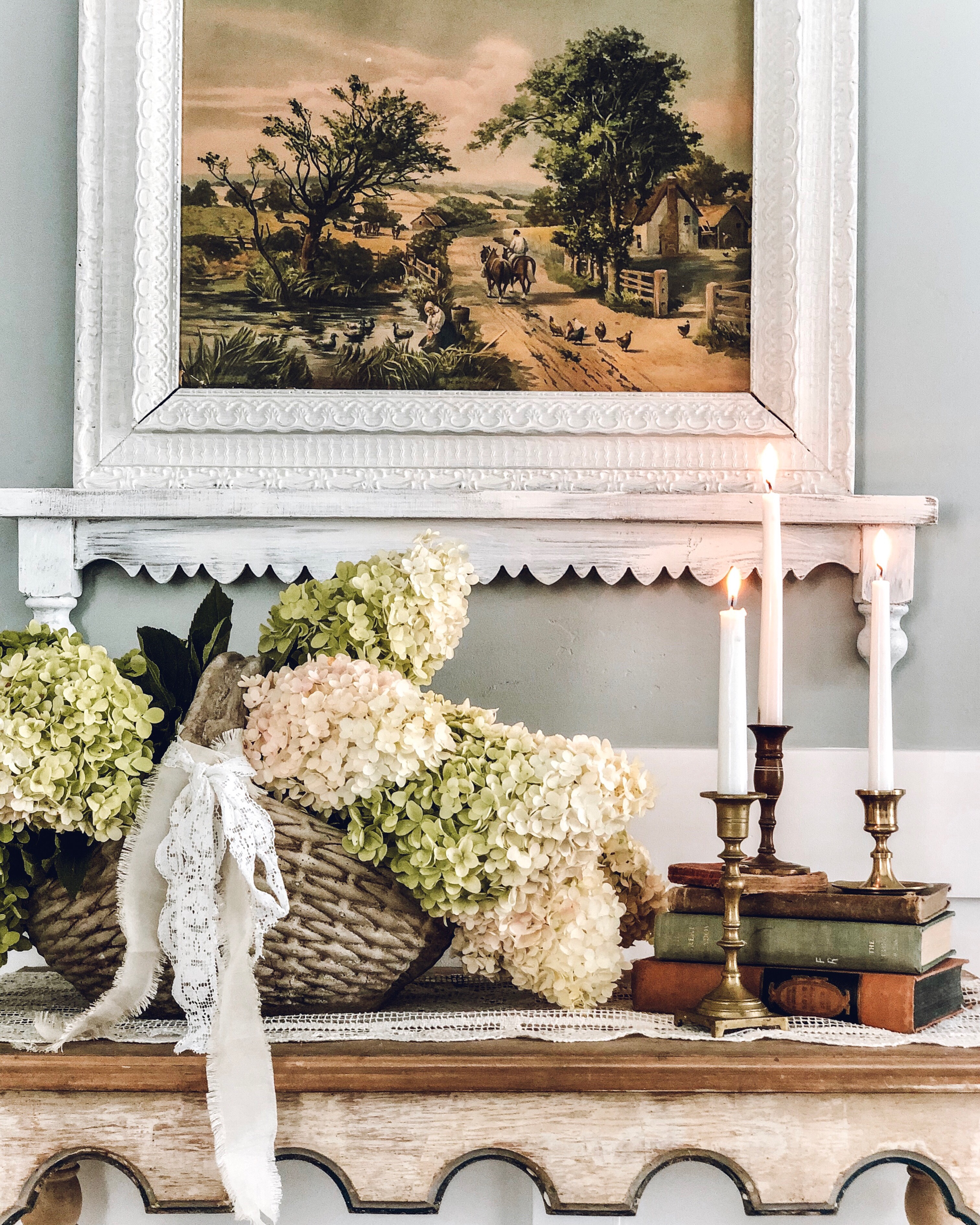 Added some candles to cozy up the space. Simple, with the perfect amount of cozy!
I've been moving things around this week. I love to start every season off with a clean house, and when I start cleaning, I start moving things! I decided to replace the two chairs that were in here, with the antique settee, that I so love! I think it opens up the space and feels a lot less crowded in here. I am trying to figure out the perfect fabric to reupholster it in. The red fabric looked good in the family room, but not in this space…I need your help with this, do you have any suggestions of fabric color/pattern for the settee?
I arranged my garden clipping in a little concrete container, for a more rustic look. Loving purples, plums, dusty pinks for fall.
And, seeded eucalyptus is always a must for me, for these fall/winter months! Love it!!
The pumpkin on this pillow is one of the very few pumpkins that you'll see in my house just yet. And, of course, a cozy throw blanket always adds that cozy feeling!
I then moved the little book shelf, that I recently showed y'all, into the family room. I almost sold the bookshelf, but my sister convinced me to keep it, and I'm so glad she did! It's going to be such a fun piece to style for all the seasons!
Still, keeping it really simple, I replaced the summer flowers with fall flowers, purple mums. I get these little potted mums every year at Walmart, they are less than $1.50 per plant!
$1.27 to be exact! I simply placed the plants, still in their plastic containers, into a wooden crate. Keeping them in their little containers not only keeps the crate from getting wet and dirty, but it's always so much easier to water these little plants by taking each little container out of the crate and watering them in the kitchen sink. Loving the impact that these five little beauties made to my bookshelf!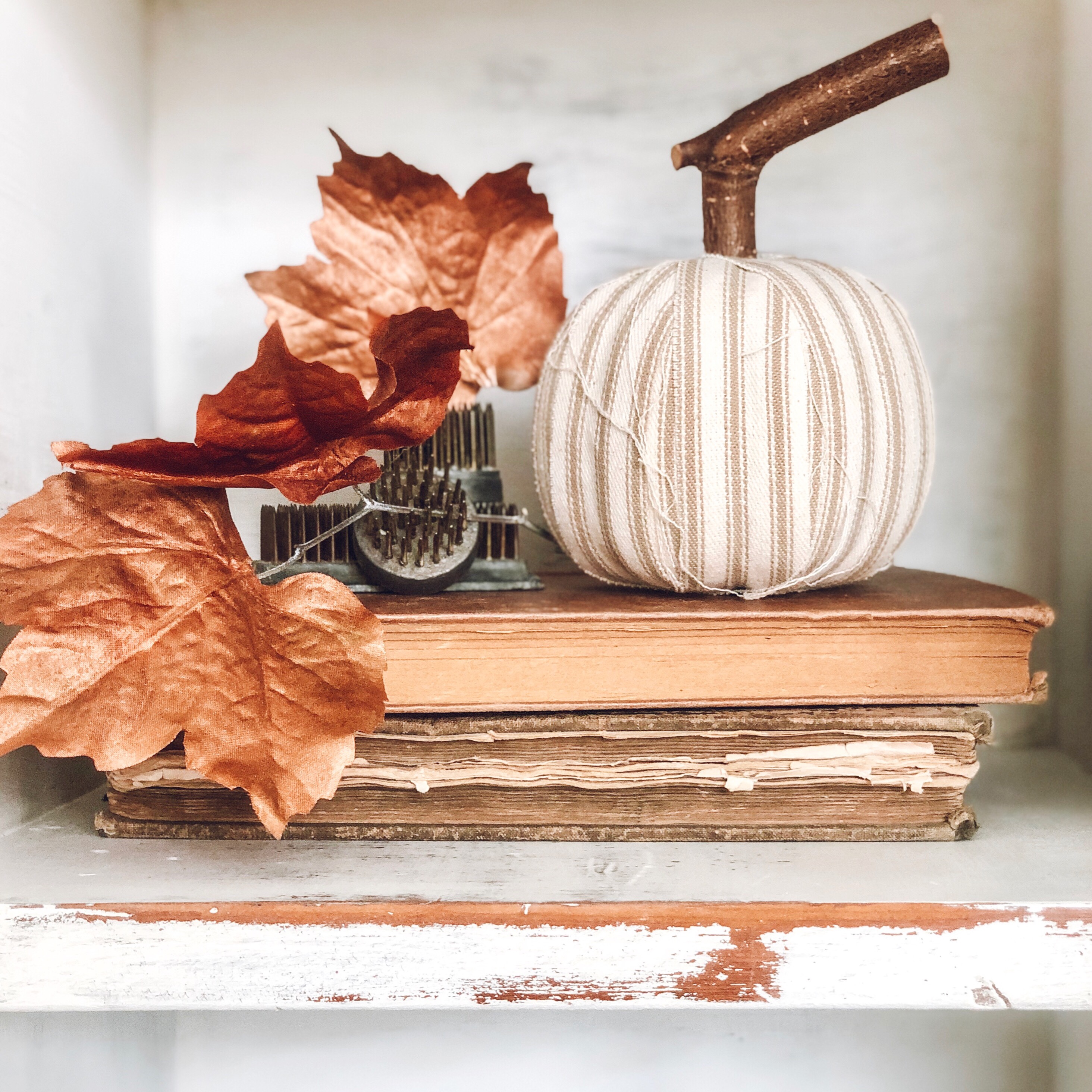 And, then of course, my kitchen shelves got a few fall touches…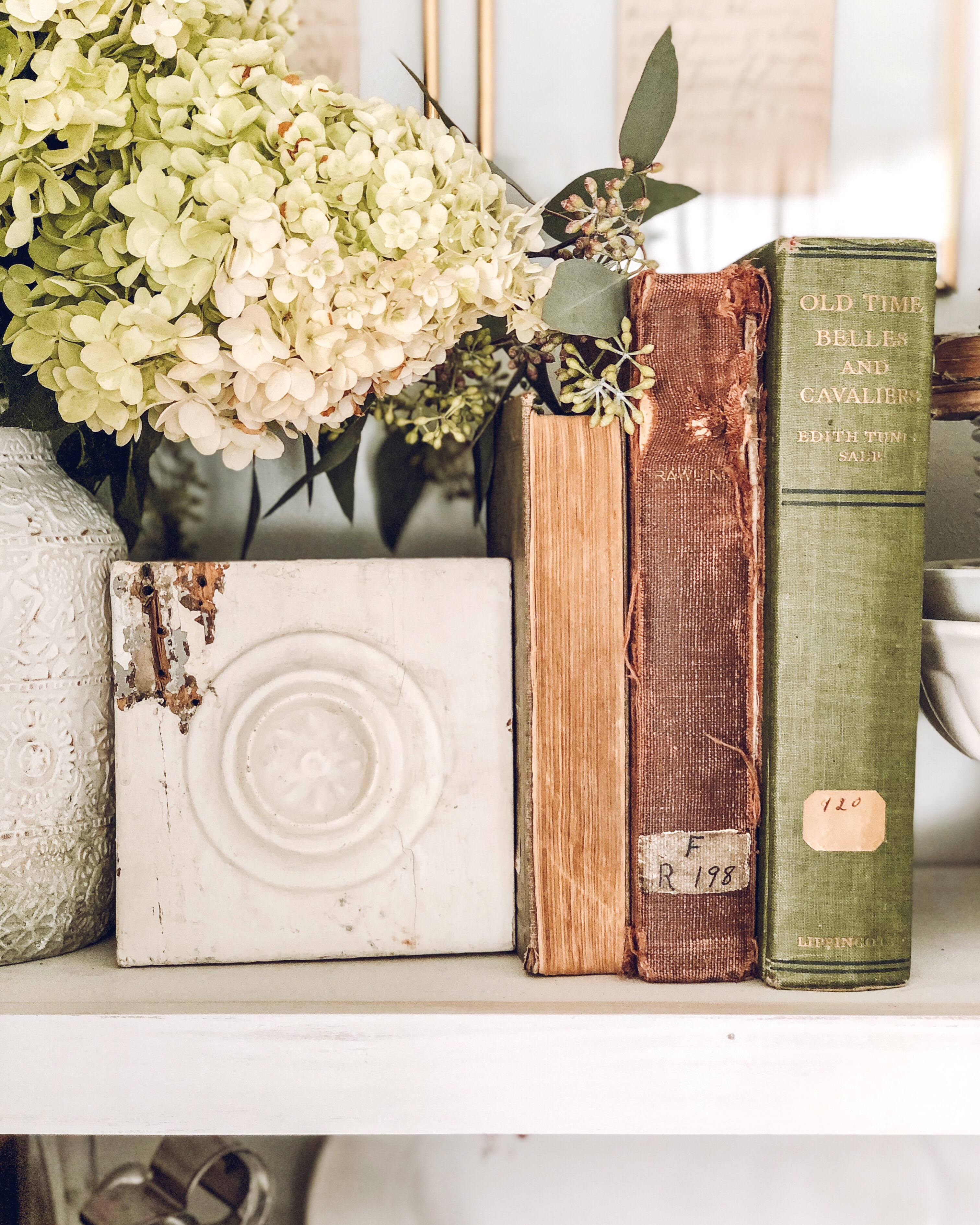 Some hydrangeas and seeded eucalyptus, in a concrete container, help carry the theme from the entryway, living room, and family room to the kitchen. I like to have variety in my decor, yet keeping it consistent. This helps pull all the spaces together, and create a less chaotic decor style. All neutral colors for these shelves, with just a touch of pink and plum on my favorite little transferware platter.
And, how perfect is that little transferware cup that I recently picked up at a local vintage shop! It's so cute, and the perfect colors for fall!! LOVE it!!!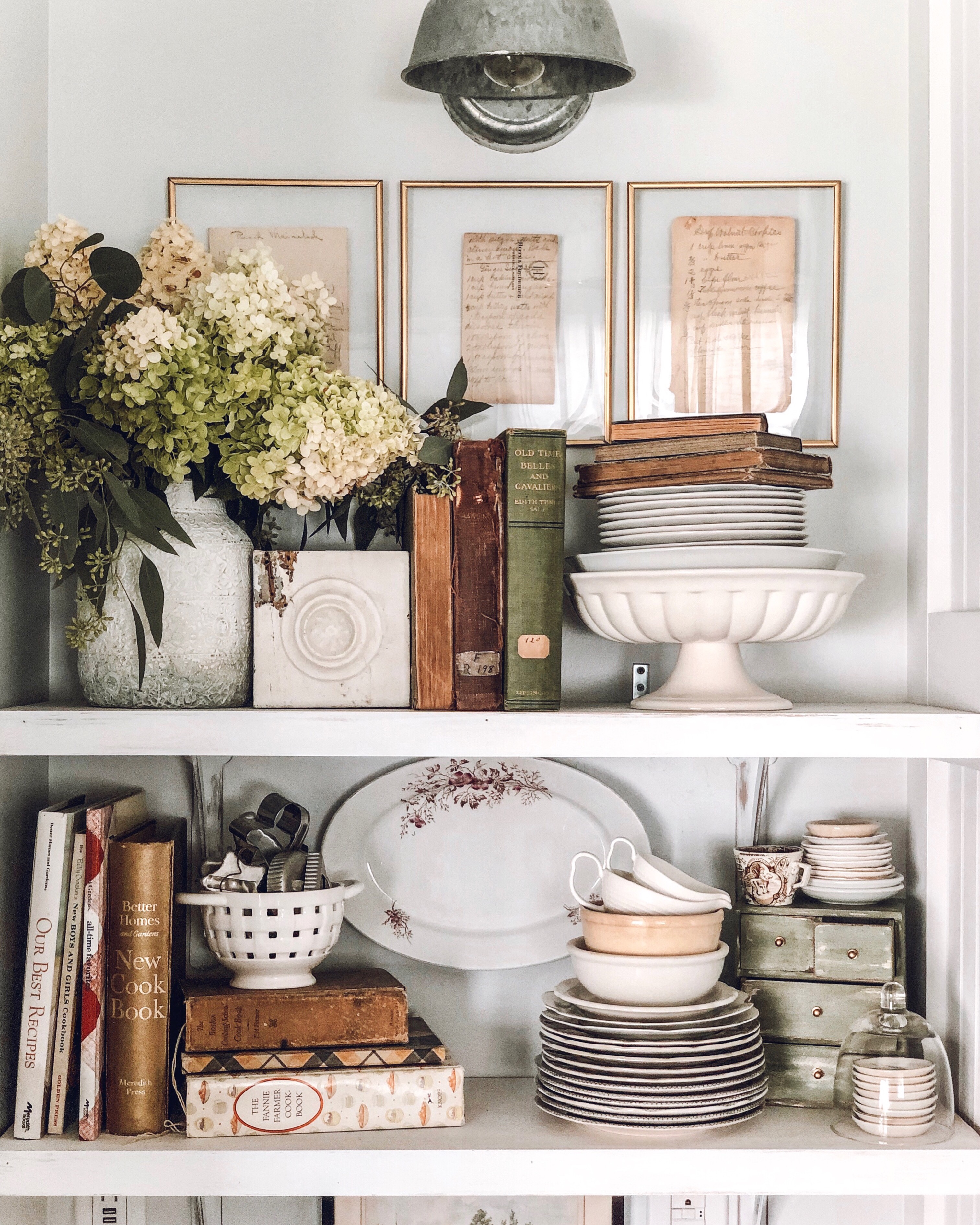 So there you have it, the start of my fall decor! Things, of course, will be changing daily, because that's what I like to do! But, I feel that I'm off to a good start, and hope this has given you some ideas/inspiration for your own fall decor this year!
And now, let's go check out the fall touches that Tara has put out around her house. Just click on any of her pictures below to take you to her fall decor post…
Hope y'all wonderful weekend!!!
I will be back on Monday with our monthly thrift store challenge! I'm excited what I have found for the challenge! It has added a perfect cozy vibe in my living room! Be sure to come back on Monday to check it out!
Lots of love to you all!!
~Emily
P.S. Don't forget to enter my giveaway for the month of August! Click on the picture below for entry details!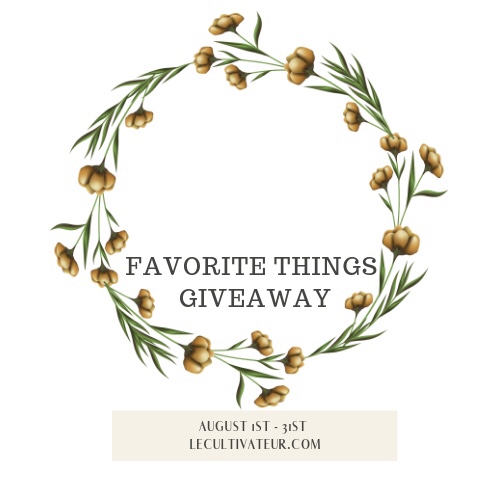 Check out where I have linked this project…. Blog link list