Fall/Thanksgiving Table Setting Ideas
Happy Sunday, friends!! I hope y'all are enjoying this beautiful fall weekend! Before we know it, Thanksgiving will be here! I love creating tablescapes! I usually create a few different fall/thanksgiving tablescapes leading up to the big day, and then create my final version the night before, that way I won't have to stress about it on the actual day.
You may remember this tablescape that I created a last year….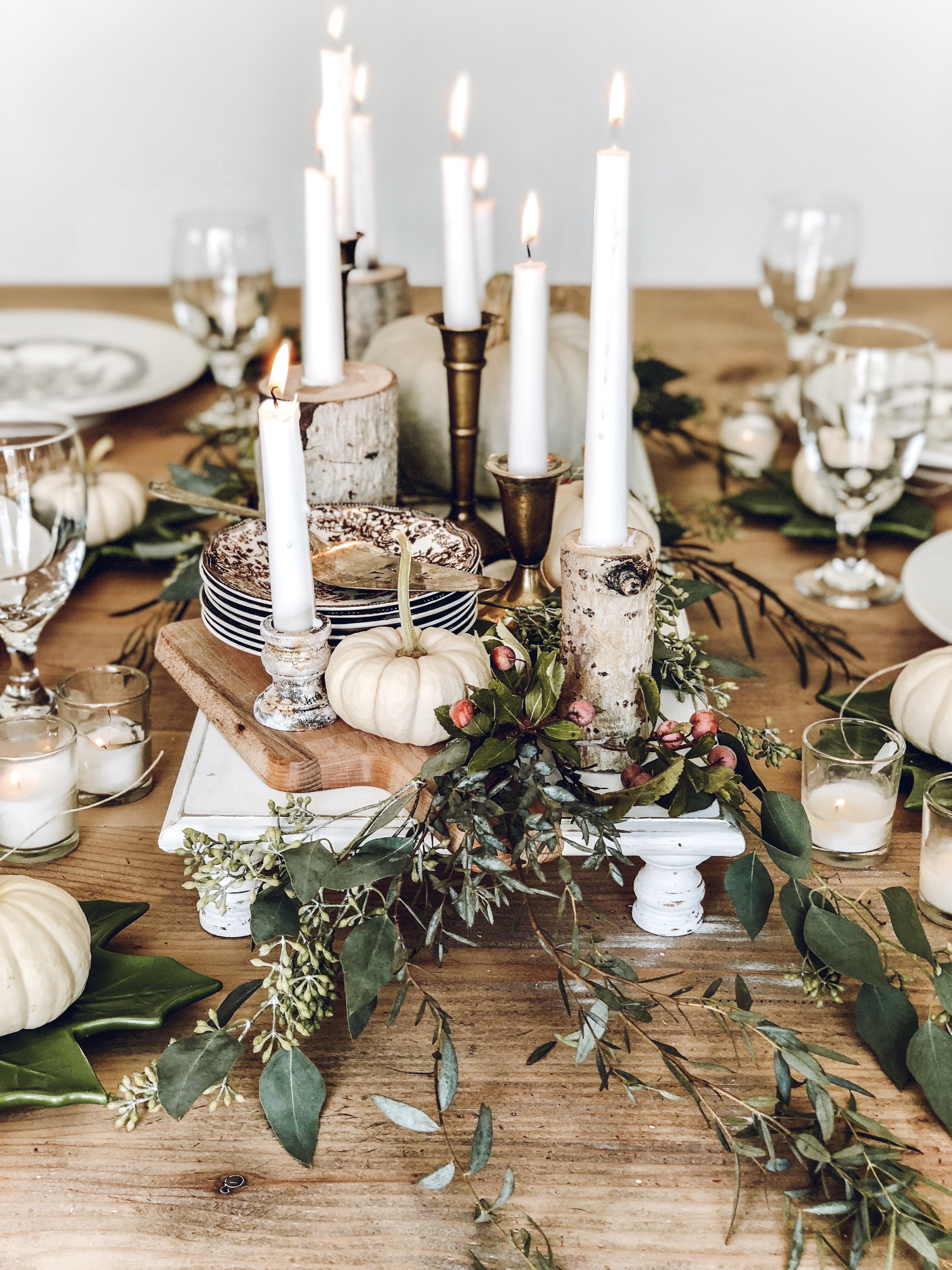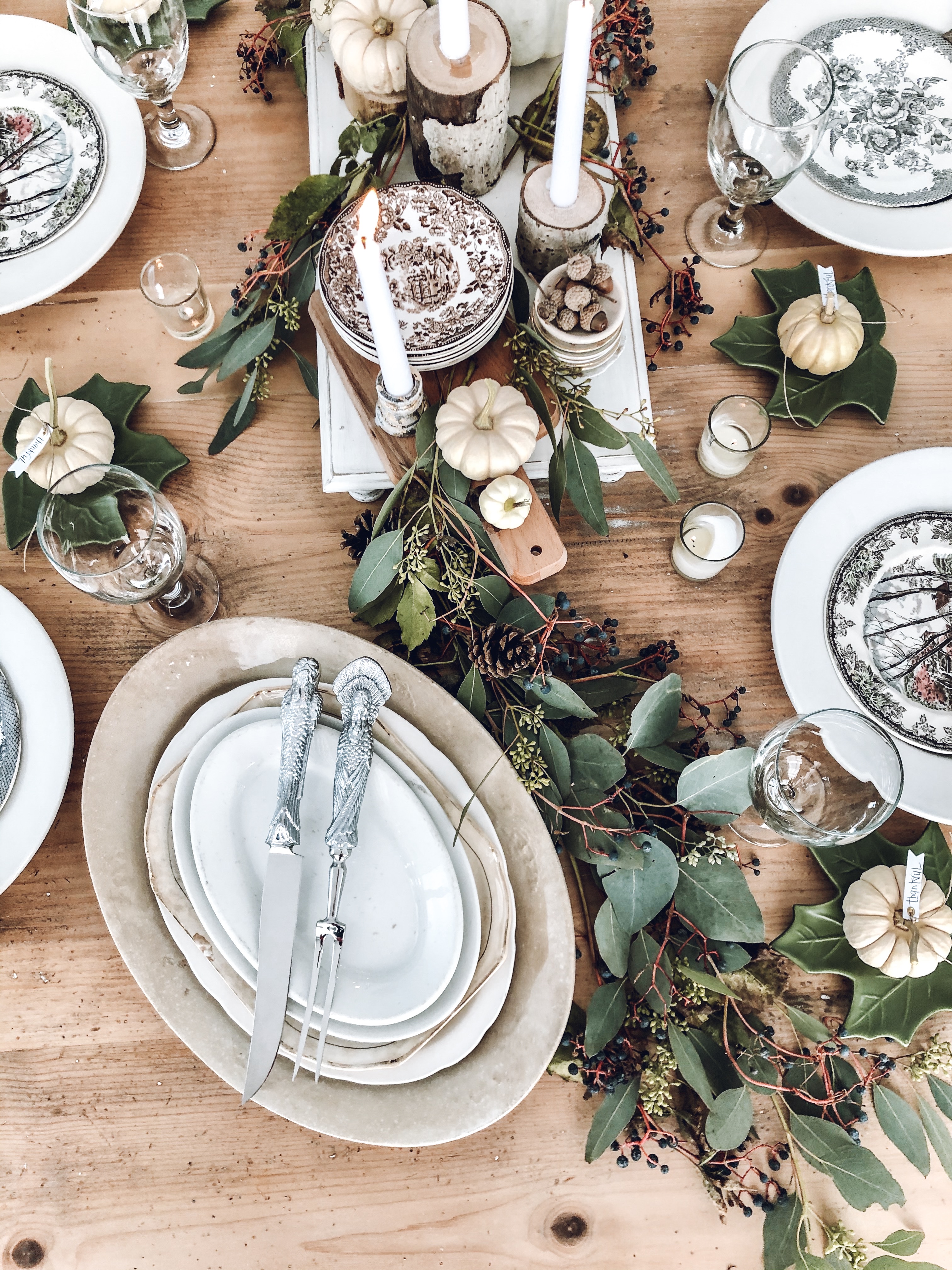 And then changed it up, just a bit, with this eucalyptus and foraged berry runner down the center of the table. I made it by simply layering eucalyptus and some foraged berries down the center, no wiring required! I also pulled out some ironstone platters that I would possibly use to serve food on. Keep in mind, if there is any crazing on your vintage plates/platters, they are unsafe to serve on.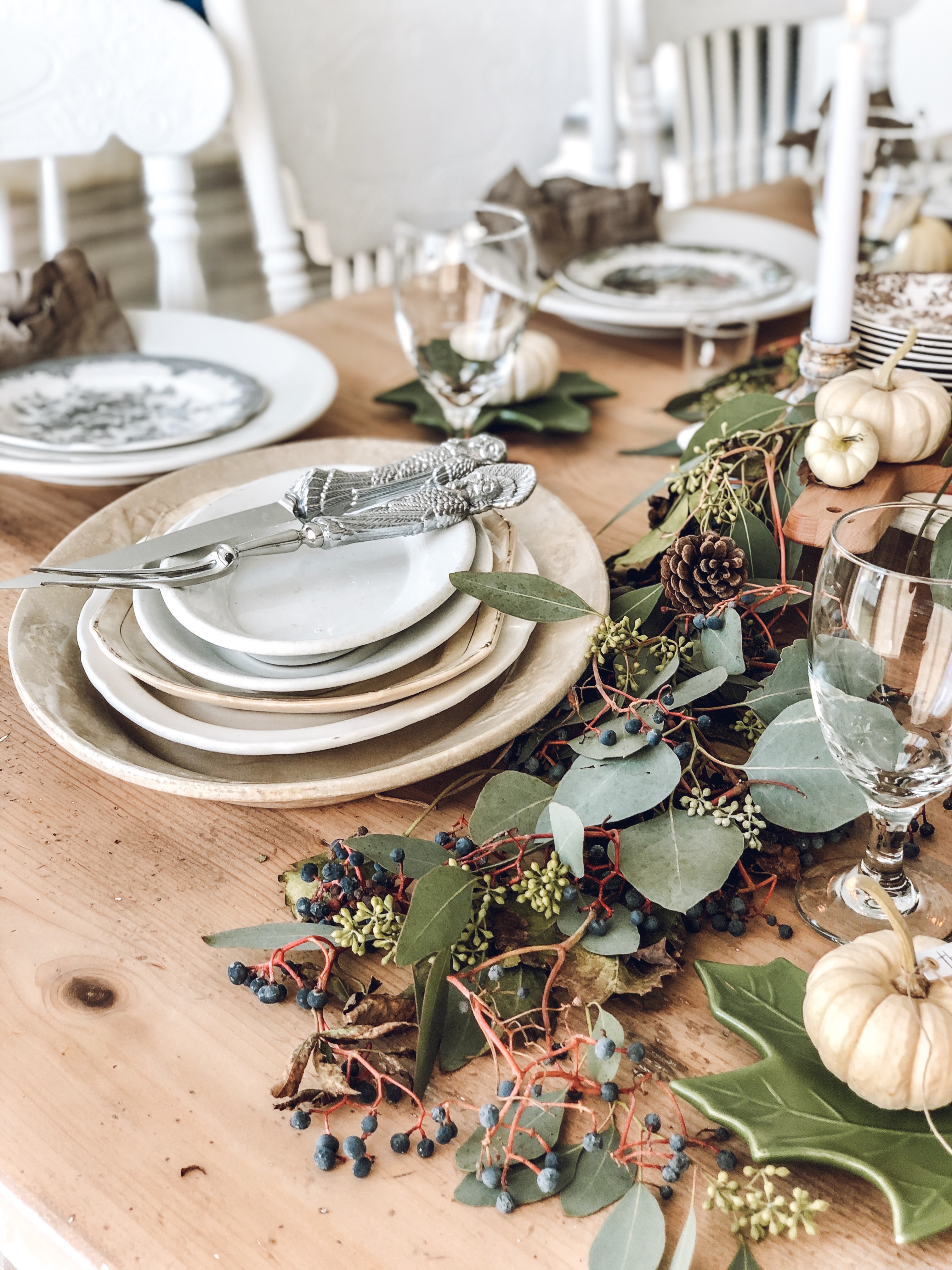 I'm still loving this turkey carving fork and knife that I received from Arthur Court. They have a so many beautiful holiday pieces!
My Thanksgiving tablescape from last year….
A little moodier, with slight Christmas touches in the background. This was my final version, my actual Thanksgiving tablescape, from last year. The turkey serving board from Arthur Court was one of my favorite details!! Click HERE to check it out!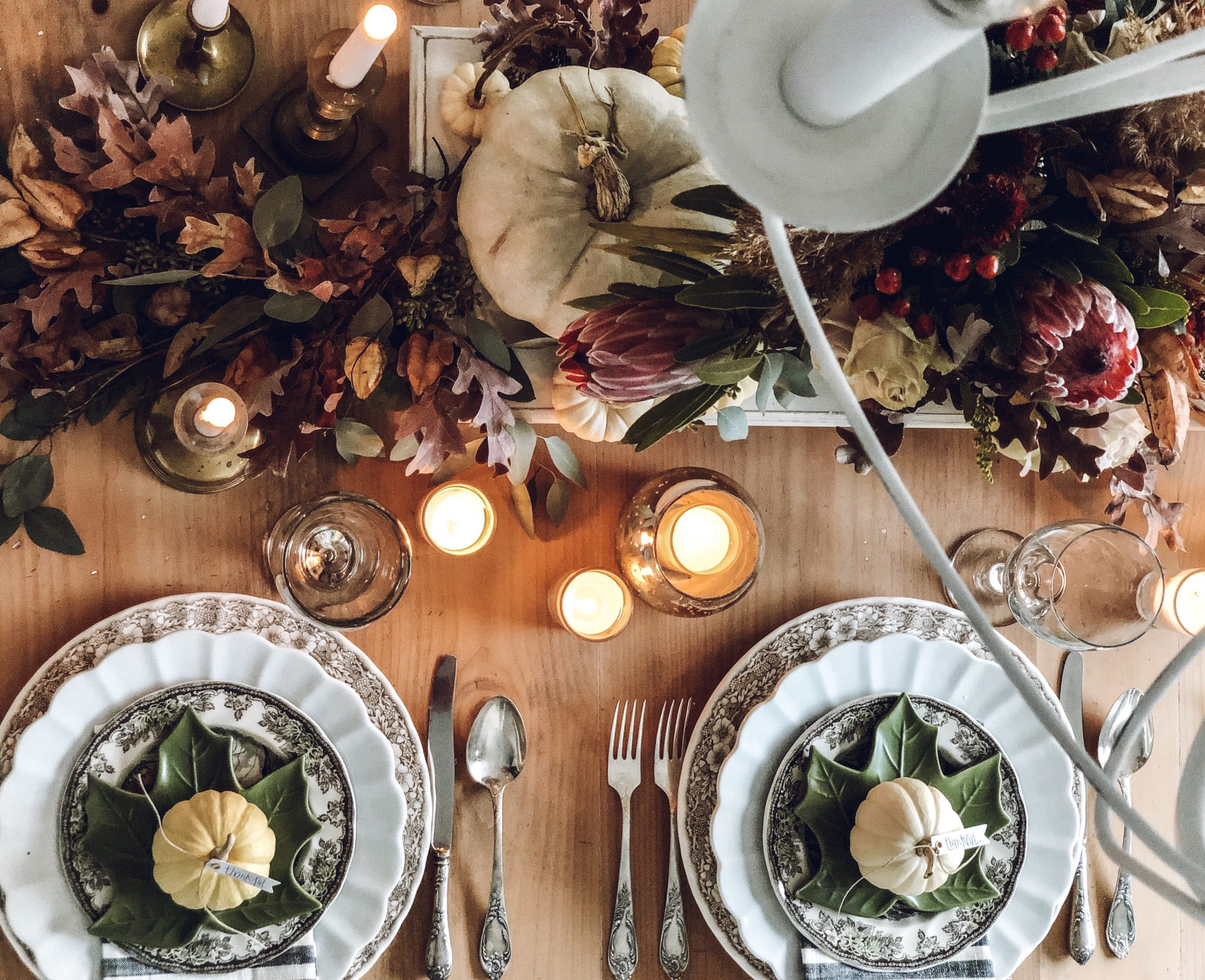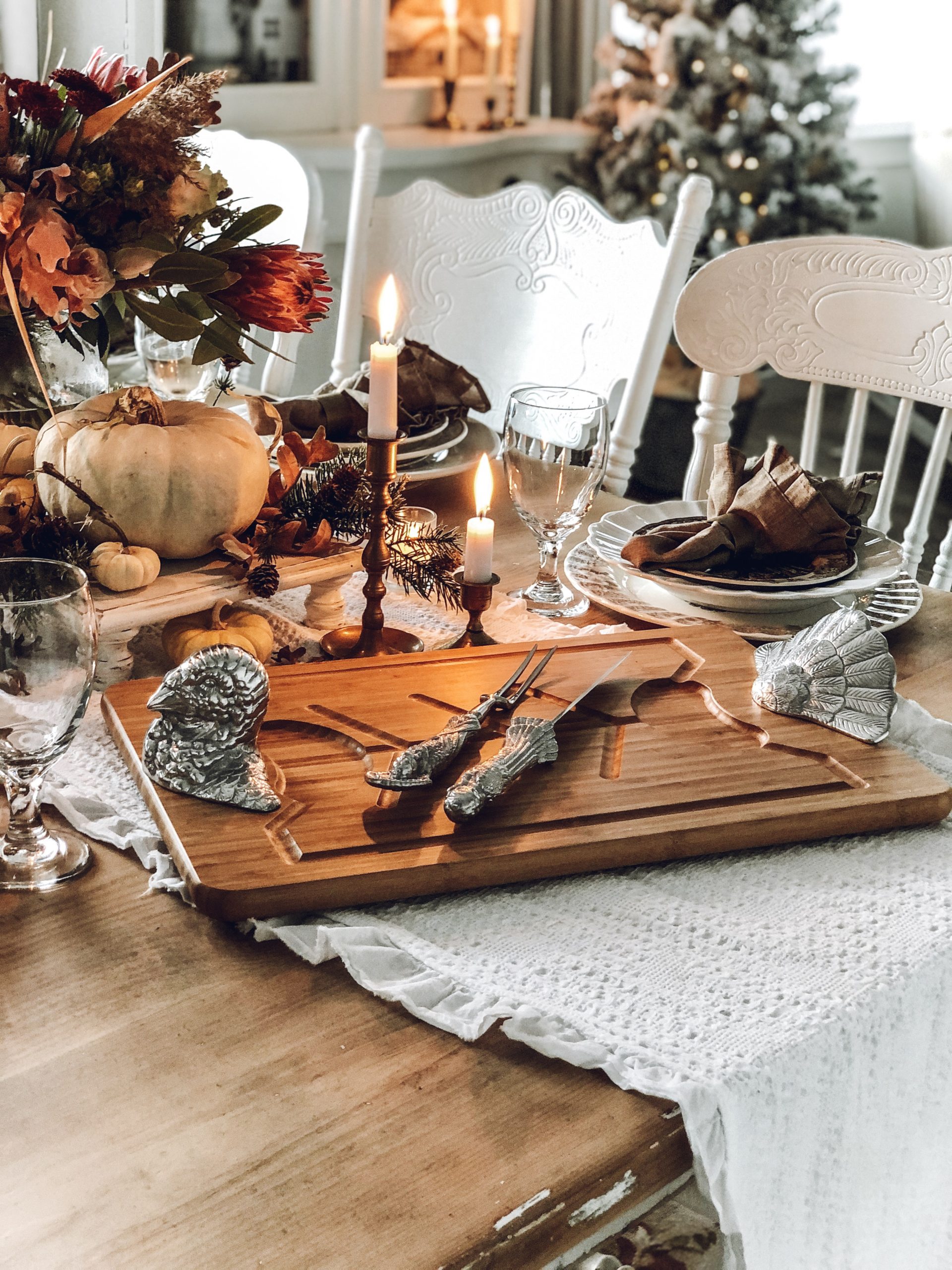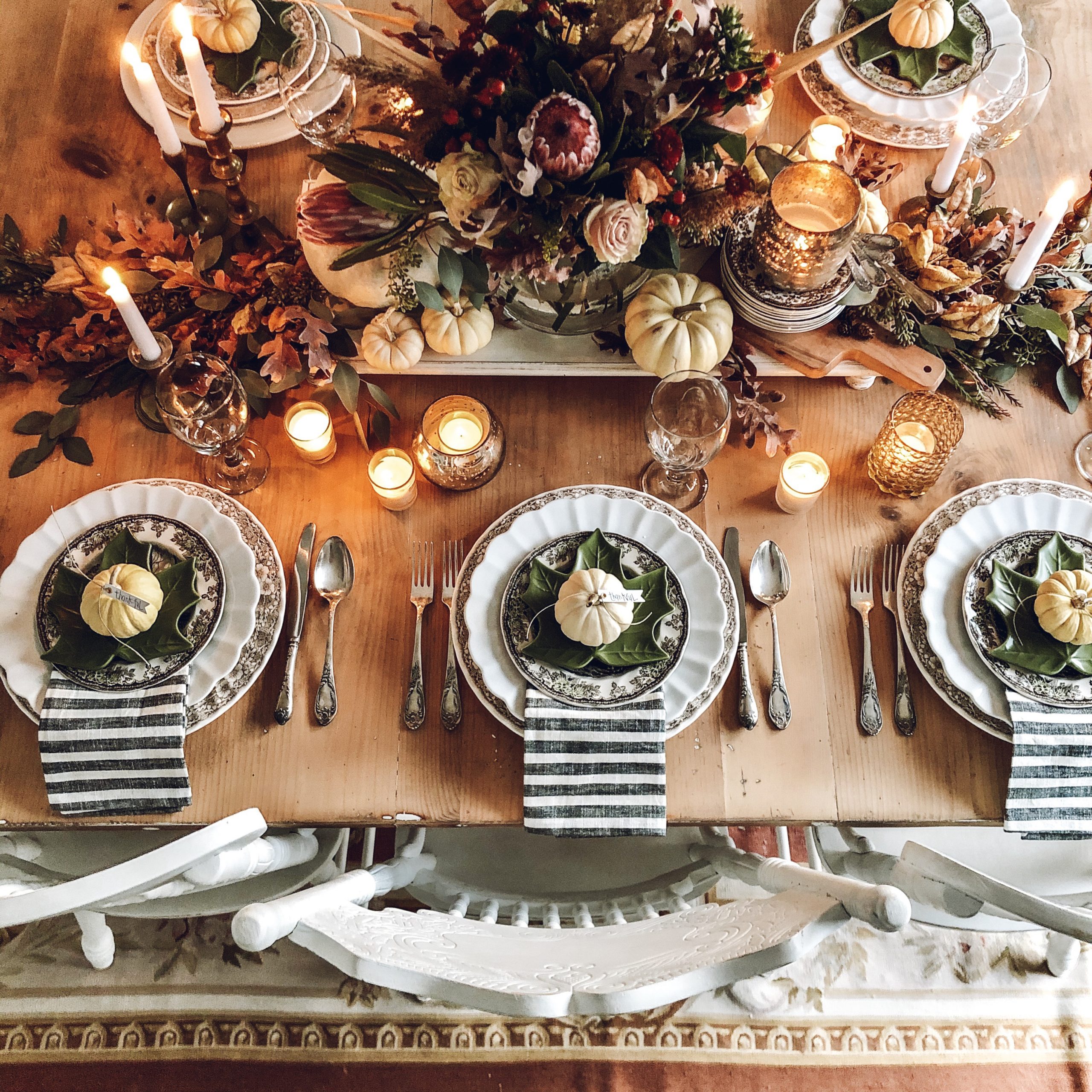 And a fall tablescape for this year…
I love the dark moodier colors during the fall/winter months. The sweetest little sugar dish with spoon, from Vagabond House.
I love the simple elegant touch that the ribbon tied silverware added. Sometimes the simplest touches are my favorites!

And one more…
Fresh blooms from my garden. Unfortunately, by the time Thanksgiving arrives, all of the blooms in my yard are frozen. Luckily, I have a Trader Joe's near by that usually has a pretty good selection of fresh blooms.
And, how about one of these cute pieces to serve dessert on….
This Squirrel cheese stand is so cute!! I like cake more than cheese, so I decided to use it as a cake plate! But, regardless of what you use it for, it's so darn cute!!!
Or this darling cake plate from Vagabond House….maybe it's obvious…I love cake!!
Wow! I LOVE to create! Hope you enjoyed! If you're looking for special pieces for any of your tablescapes, be sure to visit Arthur Court or Vagabond House to see all of their amazing, unique pieces!
Thank YOU so much for visiting LeCultivateur, and for being so supportive and kind!! So much love to you all!
Happy Sunday!!
~Emily
Check out where I have linked this project…. Blog link list